If you've ever been to Mardi Gras in New Orleans, you know it's all about beads, parades, food and drinks, and a touch of debauchery and indulgence. (Okay, maybe more than just a touch of debauchery.) But if you've never made it to the Big Easy, or if you'd rather combine your Mardi Gras experience with some of the best Orlando theme parks, there's good news: Somehow, Universal Orlando has found a way to bring all the best parts of Mardi Gras to Florida in a true family-friendly atmosphere.
Universal's Mardi Gras festival takes place mostly inside the Universal Studios Florida park. There's lots to see and do (and eat!), but there are also quite a few secrets and surprises you may not know about. Here are 10 little-known facts about Mardi Gras at Universal Orlando that'll help you "let the good times roll" on your visit.
1. Universal Orlando throws out millions of beads to the crowd during the Mardi Gras festival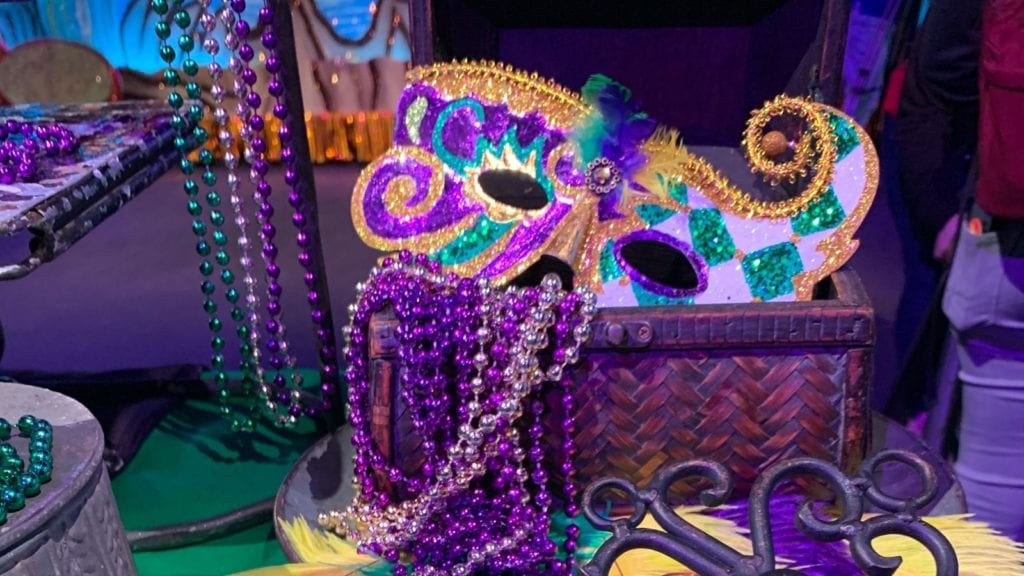 In New Orleans, you sometimes have to "earn" your beads, but Universal Orlando throws them out freely to kids of all ages (though they may ask you to show off your best dance moves). This year, costumed performers toss them down to you from atop the bright and bedazzled parade floats stationed around the park. Most years, though, these floats are part of the daily Mardi Gras parade.
Handing out beads all day, every day for nearly three months means Universal goes through a lot of beads—three million to be exact. "We safely distribute about three million beads during our Mardi Gras Celebration," says Deb Buynak, Vice President of Entertainment for Universal Orlando Resort. "They travel to Orlando by train from New Orleans before our Mardi Gras teams let them fly off our floats at a rate of 60,000 strands per day."
2. The Universal Mardi Gras event team travels to New Orleans every year to prep for the theme park's Mardi Gras festival
To make sure the Mardi Gras festival at Universal Orlando feels authentic, the theme park's planning team travels to New Orleans every year. As Buynak puts it, "We are all about the authenticity of the experience here at Universal Orlando. When we made the decision over 25 years ago to celebrate Mardi Gras, we went right to the foremost authority on the subject."
In New Orleans, the Universal Mardi Gras team looks for inspiration, picks up new props and decor, and, we suspect, eats a few beignets. How's that for a work trip?
3. The floats at Universal Studios Florida are built by the same Louisiana company that makes most of the Mardi Gras floats in New Orleans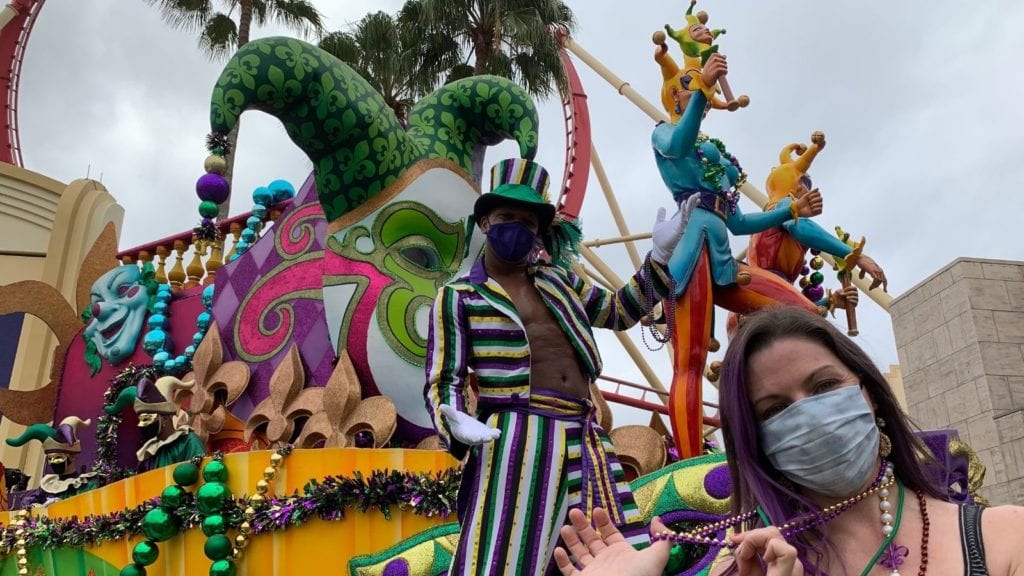 During those annual planning trips to New Orleans, Kern Studios is one of the team's first stops. Kern Studios is so popular in the world of parades and parties that it actually makes most of the floats you see at Mardi Gras in New Orleans.
Kern Studios has been designing and manufacturing parade floats and other props for more than 80 years. "We meet with Barry Kern [son of Kern Studios founder Blaine Kern] and his team multiple times throughout the year as we plan, prepare, and operate our Mardi Gras offerings," Buynak tells FamilyVacationist.
4. There's a special window in Universal Studios Florida park honoring the founder of Kern Studios
Blaine Kern was affectionately known as "Mr. Mardi Gras." After his death in 2020 at the age of 93, Universal paid tribute to his memory and the theme park's longstanding partnership with a specially painted window inside the park.
To find it, look up Just outside the Pantages Theater—home of the Horror Make-Up Show—and you'll see a window labeled with the Kern Studios logo and Kern's name and nickname. "Blaine Kern played a principal role in bringing this Mardi Gras celebration to our streets," Buynak says. "It has been part of our history for over 25 years and paying tribute to Mr. Kern, and the company he and his family built, was the right thing to do."
5. The park fries up thousands of beignets every day for the annual Universal Orlando Mardi Gras festival
During the annual Mardi Gras festival, Universal Orlando is packed with food booths from around the globe. In the New Orleans food stand, you can get tasty treats like jambalaya, gumbo, etouffee, and, yes, beignets. All day long, Universal chefs deep-fry the pillowy pastries, dust them generously with powdered sugar, and tuck them into paper bags for hungry guests.
As you can imagine, that adds up to quite a few beignets. We pressed Chef Robert Martinez, Jr., Executive Sous Chef, Research & Development at Universal Orlando Resort, for the exact number, but he's keeping that a secret. "We get this question a lot, and the answer never changes . . . TOO MANY! Let's just say, our pastry chef will be very busy until the end of March."
6. The celebration extends outside the park gates
Most of the party happens inside Universal Studios Florida, but there are a few Mardi Gras food items you can only find outside the park gates. Some of Universal's hotels get in on the action with exclusive dishes like the Shrimp & Grits at Endless Summer Resort – Dockside Inn & Suites and the Masquerade Cannoli at Loews Portofino Bay Hotel. 
At CityWalk, Universal's shopping and dining district, Toothsome Chocolate Emporium always dreams up a massive Mardi Gras-themed milkshake. (One example: the Moon Pie Milkshake made with blended white chocolate ice cream, graham crackers, and marshmallow cream, then topped with a purple-glazed Moon Pie and colorful candies.)
7. The theme of the Universal Orlando Mardi Gras festival changes every year
In the early days of the Mardi Gras festival at Universal, the themes were more subtle, but now the event team goes all out with food, floats, and costumes centered around that year's specific theme. Buynak says that about half of the floats are "traditional" floats like a Jester, Riverboat, and King Gator. You'll see those floats year after year. The other half are redesigned each year based on the chosen theme.
8. There are a surprising number of plant-based menu items to choose from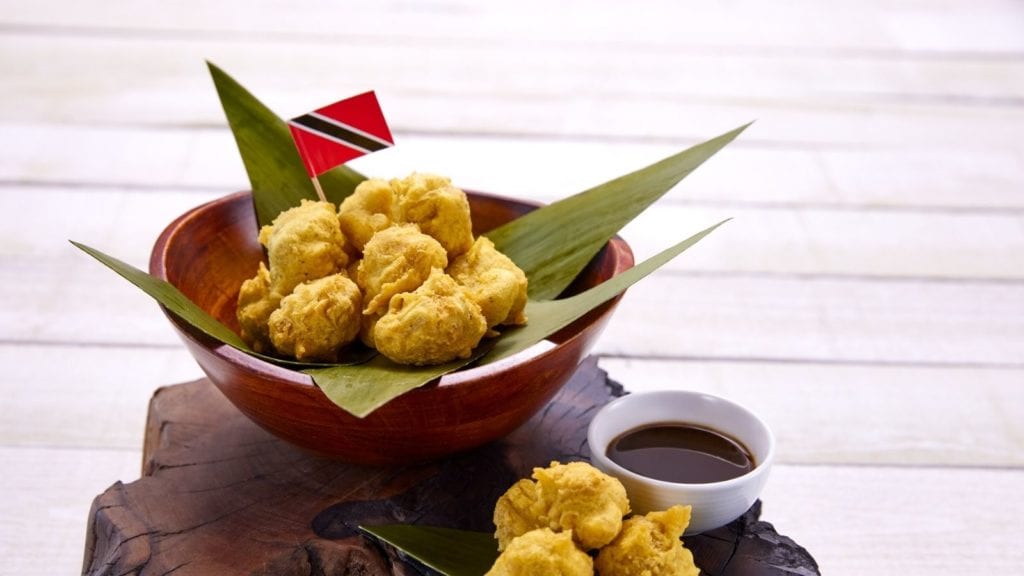 Speaking of food, most theme parks aren't exactly known for their healthy food options, but Universal has worked quite a few plant-based dishes into its Mardi Gras festival menus. Chef Robert Martinez, Jr., says the park wants to be "inclusive of the different food preferences and dietary restrictions" and ensure there's something for everyone to enjoy.
There's a delicious (and spicy) Jerk Jackfruit from the Bahamas, Pineapple Trini Chow from Trinidad and Tobago, and Plantain Chips from Cuba. All of those are traditional plant-based dishes from their respective countries. Universal Orlando also throws in a few surprises, like a Vegan Bratwurst with Beer Braised Onions at the Germany kiosk. "The flavors are so robust that when guests try it, they're amazed it's not real meat," adds Martinez, Jr.
9. The Tribute Store is a relatively new addition to the Universal Mardi Gras festival
"Store" is hardly the best way to describe the Tribute Store. Inside, you'll find immersively themed rooms, specialty merchandise, Insta-worthy photo backdrops, and even a few snacks. For years, the Tribute Store at Universal was reserved solely for Halloween Horror Nights. But it's been such a popular part of that event that the organizers recently added one for Mardi Gras at Universal Studios Florida as well.
Doing so was really a no-brainer, says Rob Cametti, Director of Visual Merchandise and Store Design at Universal Orlando Resort. "We had been looking for the opportunity to deliver this type of experience outside of Halloween Horror Nights, and 2020 provided us with the 25th anniversary of Mardi Gras," he says. Now it seems the Tribute Store is likely to be an ongoing feature at future Mardi Gras festivals.
10. The party doesn't end after Fat Tuesday
Fat Tuesday falls the day before the start of the Lenten season and signals the official end of Carnival (though New Orleans parades continue through the end of February). Universal must not have gotten the memo, though, because the annual Mardi Gras festival at Universal keeps partying through the end of March every year. Which is great news for everyone who wants to experience Mardi Gras at but can't make it before Ash Wednesday!
More from FamilyVacationist: