Universal Orlando Resort is known for big thrills like the Jurassic World VelociCoaster, the magical Harry Potter theme park areas, and the fully themed outdoor water park Volcano Bay. If you're a frequent visitor, you may already know all of the best attractions and places to eat. But even Universal aficionados may be surprised at some of the lesser-known experiences on offer at these popular Orlando theme parks.
Lesser-Known Things You Can Do at Universal Orlando
That's right, there are some pretty exciting things to do at Universal Orlando Resort if you know where to look and who to ask. Here are some of the best under-the-radar experiences at Universal Studios Florida and Universal's Islands of Adventure theme parks.
DISNEY MAGIC: 9 Things You Didn't Know You Could Do at Magic Kingdom
1. Tour the MEN IN BLACK Headquarters
One of the most popular attractions at Universal Orlando Resort is MEN IN BLACK Alien Attack, which will have you shooting at aliens to score points throughout the experience. But what many people don't know is that you can get a tour of MIB's lower level headquarters simply by asking.
STYLE AND COMFORT: 10 Best Travel Shoes for Walking All Day Long
Before boarding, ask a team member at the ride if they are currently offering any headquarters tours. If there is availability, you'll be escorted to HQ and allowed to walk around and take a few photos before you get on the attraction.
Tours are subject to availability and generally only run when the park is not super busy and there are enough team members available.
2. Adopt a Pygmy Puff at The Wizarding World of Harry Potter
Inside the Harry Potter areas of Universal Studios Florida and Universal's Islands of Adventure, you can adopt an adorable pygmy puff. The magical creature is known for its bright pink or purple coloring and its super soft fur.
WIZARD SECRETS: 7 Things You Didn't Know You Could Do at The Wizarding World of Harry Potter
When you adopt one at Magical Menagerie or Weasleys' Wizard Wheezes (both are located in Diagon Alley), a team member will perform a naming ceremony for you and your new pet. This is a great way to have a little extra magic in your day between waiting in long lines for attractions like Hagrid's Magical Creatures Motorbike Adventure and Harry Potter and the Escape from Gringotts.
3. Go Bowling at Universal's Cabana Bay Beach Resort
Tucked away inside Universal's Cabana Bay Beach Resort is a little bowling alley that anyone can use! The hotel's Galaxy Bowl is a fun way to end any day at Universal Orlando Resort, or a fun afternoon activity if you and your family are having a hotel-only type day.
There are only 10 lanes at Galaxy Bowl and they can fill up quickly during peak times, so be sure to pack your patience if you want to snag a lane. If you've worked up a hunger while bowling, you can also dine on dishes like burgers and pizza between throwing strikes.
4. Partake in a Rum Tasting at Loews Sapphire Falls Resort
Adults who are into trying different spirits will want to head to Loews Sapphire Falls Resort at Universal Orlando to take part in a rum tasting at Strong Water Tavern. Each of the rum tastings is led by the onsite Rum Captain who can guide you through all of the rums, and explain the tasting notes and some fun facts about each variety.
5. Become a Guitar Hero at the Hard Rock Hotel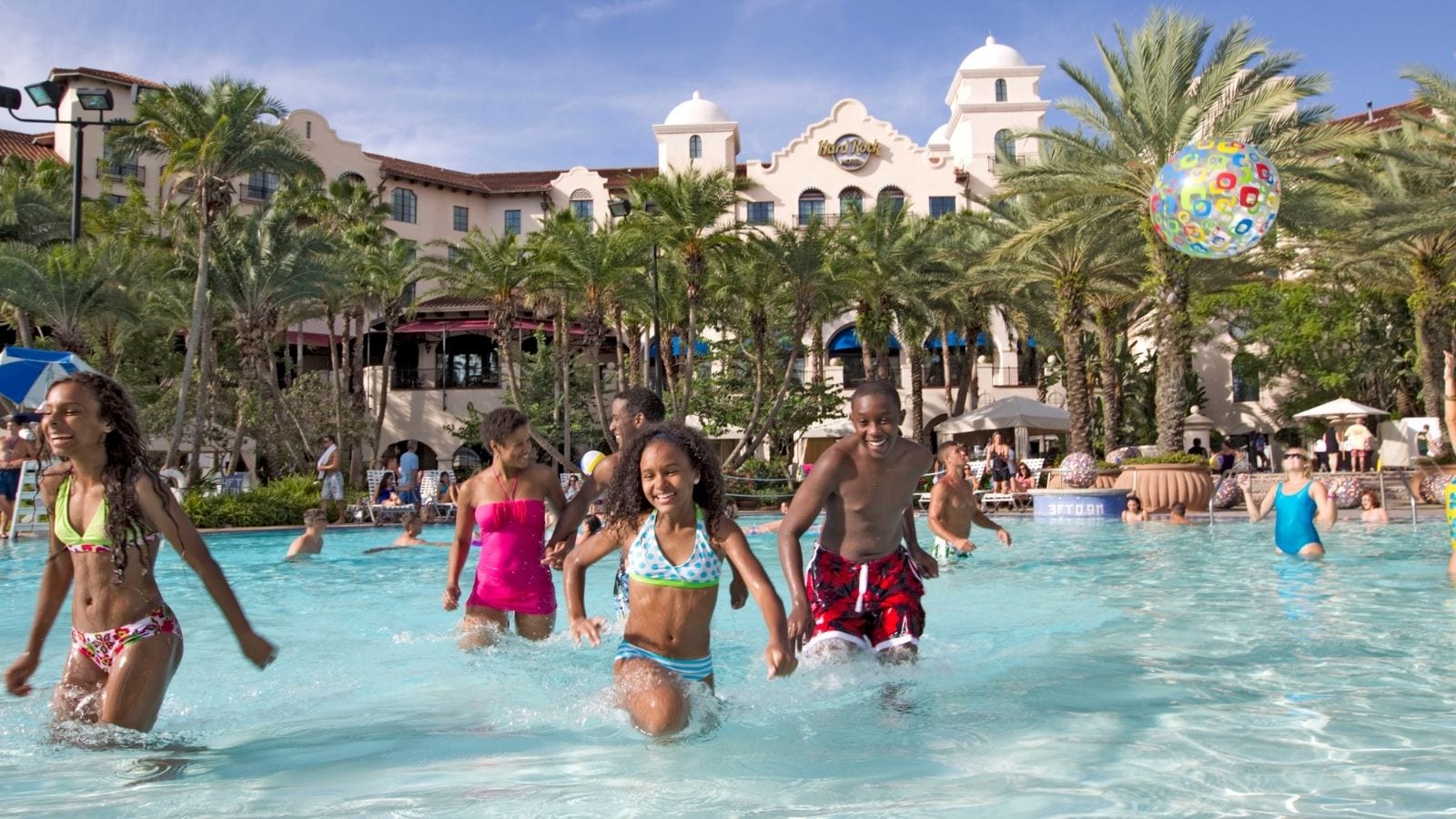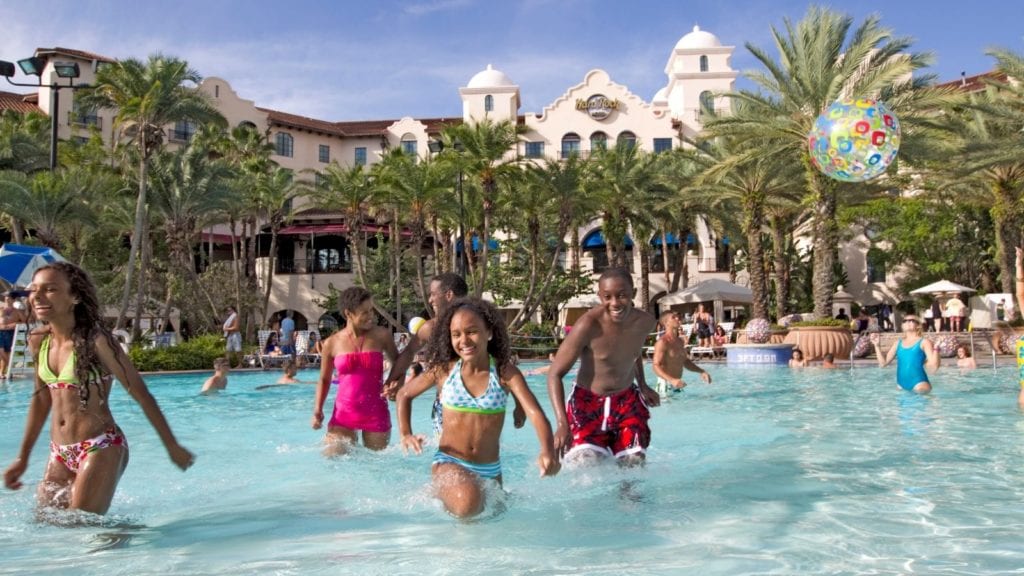 Guests staying at the Hard Rock Hotel at Universal Orlando are surrounded by memorabilia from rock 'n' roll legends. If you want to become a legend yourself, you're in luck because you can actually rent a guitar to play in your room.
And if you're looking for something a little less intimidating, consider renting a record player and playing your favorite vinyl or taking a memorabilia tour led by one of the team members at the hotel.
6. Ride a Float During the Mardi Gras Event
One of Universal Orlando's most popular events is Mardi Gras, which takes place each spring. Guests at Universal Studios Florida can dine on bayou favorites, watch nightly concerts, and even catch the nightly Mardi Gras parade.
But those who really want to get the full Mardi Gras experience can register to ride on one of the parade floats, don a colorful vest, and throw beads to the crowd. Spots fill up quickly, so plan ahead if you want to partake in this lesser-known thing to do at Universal.
7. Take an R.I.P. Tour During Halloween Horror Nights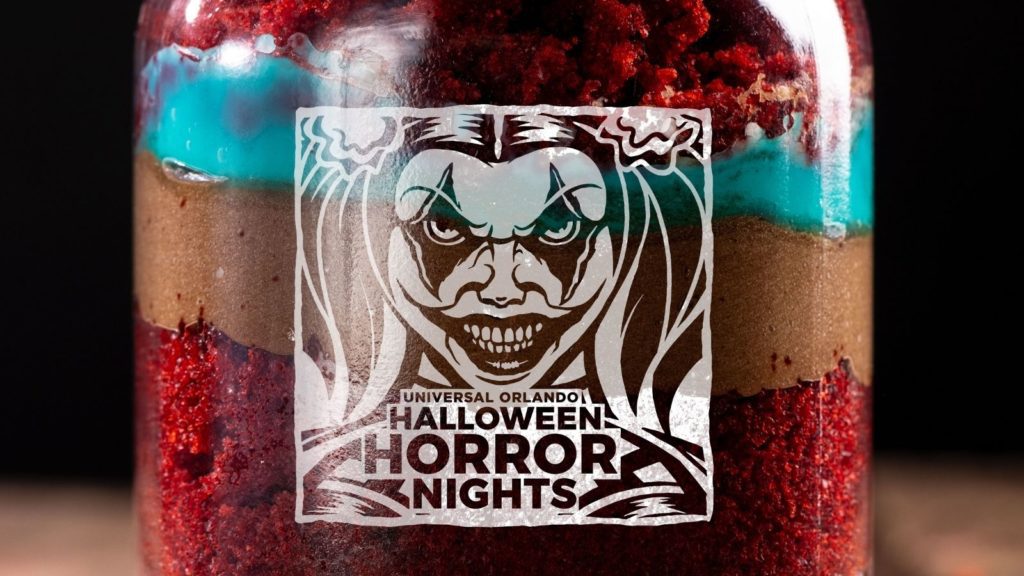 The annual Halloween Horror Nights is one of Universal Orlando Resort's premier experiences. Thousands of people head into the fog at Universal Studios Florida on select nights every September and October for an event that includes plenty of haunted houses, scare zones, and live performances.
But if you truly want to amp up the fear, consider taking the R.I.P. Tour, which includes a VIP guide who'll bring your group through all of the houses and participating park attractions. Alternately, you can take the less terrifying Behind The Screams: Unmasking the Horror Tour, which is a daytime lights-on tour of some of the houses.
More from FamilyVacationist: