Towards the end of April every year, the city of San Antonio celebrates Fiesta San Antonio, a colorful citywide celebration that originated in 1891. Fiesta begins with a parade that commemorates the Battle of the Alamo and Texas' independence from Mexico, and festival goers don paper flower crowns and crack confetti eggs on each other's heads.
Families enjoy Fiesta San Antonio's pageantry, carnival rides, games, and tasty foods. It's a lively festival rich in Latin heritage, and kids give it a big thumbs up for its unique events and fun traditions. If you're headed to San Antonio for Fiesta or just curious what it's all about, here's everything you need to know to plan a visit.
What Is Fiesta San Antonio?
Founded more than 130 years ago, Fiesta is one of San Antonio's biggest annual events and it's full of memorable traditions. It began as a parade that celebrates the heroes of the Alamo and the Battle of San Jacinto, the final battle of the Texas revolution, and has evolved into a huge annual celebration of San Antonio's heritage. The already vibrant city oozes with extra enthusiasm and family-friendly events for the roughly 10-day celebration in late April each year.
FUN FOR FAMILIES: 9 Texas Family Resorts with the Best Kid-Friendly Amenities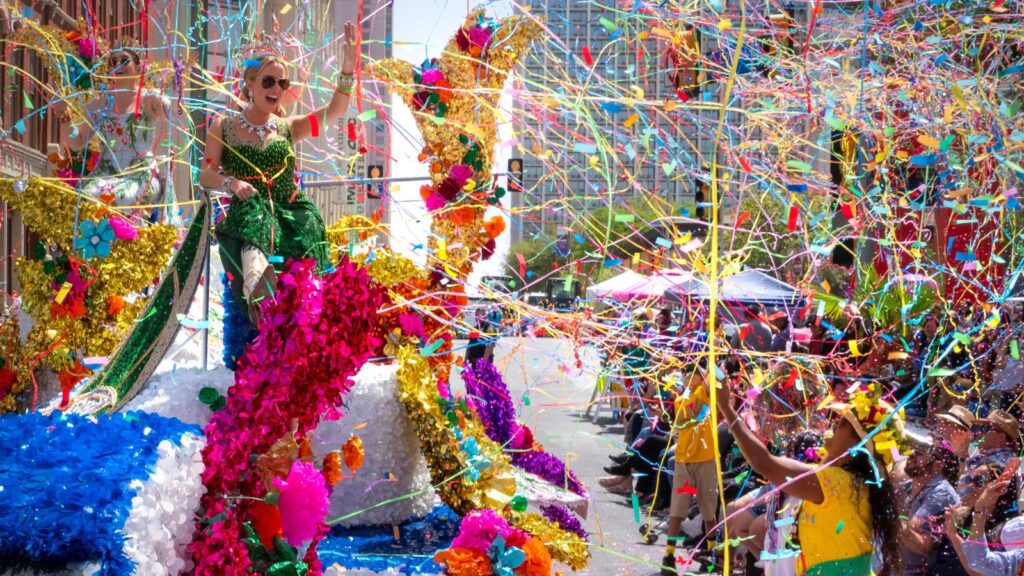 Fun Traditions and Foods at Fiesta San Antonio
If your kids like collecting stuff, they're in for a treat at San Antonio's Fiesta celebration. One of the biggest honors of Fiesta is collecting as many medals as you can and displaying them on your jacket, hat, or sash. Festival goers also decorate big wild hats with crazy and fun themes. Grab a cowboy hat or baseball hat and deck it out with flowers, or decorate it after your favorite sports team.
MAKE MEMORIES: 20 Best Places to Go with Kids This Year
Every annual Fiesta celebration has nine members of "royalty," from a teen queen to a various other queens and kings that support their communities. When you come to Fiesta, you can watch them be coronated for their contributions to San Antonio.
Family-favorite Fiesta foods include Chicken-on-a-Stick, which is a breaded chicken patty served on a stick with a roll and jalapeño; and Corn in a Cup, buttery corn that you can top with lemon pepper or cayenne pepper for an extra spicy Fiesta kick. Try a gordita stuffed with cheese, meat, or veggies, and a paleta popsicle (a kind of Mexican frozen treat) made out of fresh fruit like mango or coconut. You'll also find turkey legs, fried Oreos, fresh oysters, and walking tacos (basically a bag of chips filled with taco fillings) to name just a few fun food options at Fiesta.
Family-Friendly Events at Fiesta San Antonio
Schedules changes each year, but the following Fiesta events are kid-friendly and typically offered annually during the Fiesta San Antonio celebration each spring.
1. Battle of Flowers Parade
Fiesta's opening event every year, the Battle of the Flowers Parade is what kicked off this huge annual festival more than a century ago. It's the only parade in the United States produced entirely by women, all of whom are volunteers. The Battle of the Flowers Parade commemorates the Battle of the Alamo and Texas' independence from Mexico. Expect bright flower-covered floats, live music, and lots of good cheer. Public schools close for this event, so you'll see plenty of children.
OFF-SEASON SAVINGS: These Are the Best Places to Take the Kids on Vacation in February: Disneyland, San Antonio, and More
"Show me your shoes" is a popular shout in the crowd during the parade. What started as a way for females on floats to don more comfortable footwear has turned into a quirky tradition where ladies today reveal studded cowboy boots, sparkly sneakers, or other cute and comfortable shoe options to the delight of parade attendees.
2. King William Fair
During Fiesta San Antonio, King William Fair is a one-day celebration held near the end of April each year that features a parade, food and beverage tents, a kids' kingdom with activities, and five stages for entertainment. Children ages 11 and under enter for free.
At the King William Fair, you can play carnival games, participate in arts and crafts, view art installations, or listen to live music. You might see flamenco, Hawaiian or clog dancers, Brazilian martial artists, stilt walkers, belly dancers, or mariachi musicians.
3. Fiesta de Los Ninos
Roughly translating to "children's party," Fiesta de Los Ninos is a family-friendly event that comes a tech twist. Not only is admission and entertainment often free, but this event also includes STEM activities and video games.
Whether aviation, robotics, or e-sports are your kids' jam, there's something cool to try. Sink your teeth into a juicy sausage off a grill and listen to pop, rock, or cover bands. Throw your hands up in the air on carnival rides, then enjoy a buttery ear of corn or cup of sliced tropical fruits. Even parents will have fun at Fiesta de Los Ninos.
4. Fiesta Pooch Parade
The annual Fiesta Pooch Parade is a ticketed event that includes a costume contest for dogs and their humans. Whether you want to dress up as caped crusaders or just stroll through the shaded streets of Alamo Heights together, this San Antonio Fiesta event is fun for dogs and dog lovers alike. Not only will the pooches get to snarf treats, you'll also learn how therapy animals help support children's literacy and comfort communitities in crisis.
FURRY FRIENDS: Top 10 Pet-Friendly Resorts and Hotels in the U.S.
5. United Ways Kid's Festival
The United Way Kid's Festival is a free pet-friendly family event at Fiesta San Antonio that features developmental games and activities. Entertainment acts and mascot characters grace the stage. You can snag swag like bags, books, games, and fresh fruit. Wear your fiercest Fiesta hat or make one at the event to participate in the Fiesta Hat Contest.
6. Festival de Animales
Bringing the Fiesta excitement to the San Antonio Zoo, the Festival de Animals features lively music performances and colorful characters that celebrate the animals, culture, and delicious foods native to Central and South America. Specialty cocktails, animal presentations, and visits from Fiesta Royalty make this zoo visit extra memorable. This official Fiesta event is included with standard zoo admission and free for zoo members.
MAKE ROOM FOR ROMANCE: 12 Best Vacation Spots in North America for Couples This Year
What to Wear to Fiesta San Antonio
Fiesta is a celebration of San Antonio's Mexican heritage. Dress up in your brightest colors and biggest hats. Embroidered shirts, flowing dresses, and cowboy boots are excellent Fiesta looks. Fringe, sequins, and turquoise jewelry add extra flare. Women and girls often wear paper flower crowns at Fiesta, which you can purchase in the shops around San Antonio.
Where to Stay for Fiesta San Antonio
A luxury hotel on the San Antonio River Walk near the popular Pearl District, centrally located Hotel Valencia Riverwalk oozes ambiance with its open-air courtyard and terraces overlooking the River Walk. The hotel typically offers a Viva Fiesta vacation package each year that includes a Fiesta medal and valet parking.
KID-FRIENDLY HOTELS: 17 Best Family Resorts in the U.S.
Another good option, especially for families who need a little extra space, is the all-suite AAA Four Diamond Hotel Contessa on the River Walk. Special Fiesta celebrations include mariachi bands, folclórico dances, Fiesta crafts, and themed cocktails. And at the end of the day, you can cool off in the hotel's rooftop pool.
Other Family-Friendly San Antonio Activities and Eats
If you come to San Antonio for Fiesta, you'll definitely want to visit the Alamo and explore the River Walk during your trip. The top attraction in San Antonio, the River Walk hosts a Fiesta Artisans Show where you can purchase pottery, paintings, and jewelry. Take hop-on hop-off riverboat tour or watch mariachi bands float by during Fiesta while you sip a margarita.
San Antonio also has a Six Flags, SeaWorld theme park, Aquatica water park, zoo, aquarium, and LEGOLAND Discovery Center. The DoSeum children's museum, Witte Museum, and Hopscotch Immersive Art Experience are hits with kids and teens. The specially designed Morgan's Wonderland is the world's first family amusement park that's accessible for all. You'll also find water parks, trampoline parks, caves, and a beautiful botanic garden in and around San Antonio.
The historic Pearl is a fun stop for shopping and dining. Don't miss any opportunity to eat at La Panaderia, a bakery and cafe serving pan dulce (sweet breads) and tortas (sandwiches on soft rolls) that will make you want to lick your fingers. During Fiesta, look for their festive Fiesta baked goods such as the colorful cream-filled tres leches croissants.
More from FamilyVacationist: