Established as America's first national park by President Ulysses S. Grant in 1872, the vast territory of Yellowstone was set aside for the benefit and enjoyment of present and future generations. Today this popular family vacation spot makes up the core of the Greater Yellowstone Ecosystem, a 2.2-million acre tract that's one of the last and largest nearly intact natural ecosystems on the planet.
But while most people know Yellowstone for its spectacular geologic features, the entire region is also rich in cultural and historical significance. And this year the national park is leaning into that history as it celebrates its 150th anniversary with a renewed focus on the indigenous people who have called the area home for millennia.
LODGE LIFE: 12 Beautiful National Park Lodges Every Family Should Visit
Celebrating Yellowstone's Indigenous Heritage
Yellowstone National Park Superintendent Cam Sholly acknowledges the importance of the park's 150th anniversary for the U.S., but says he wants to use the anniversary to fully recognize the indigenous people who lived in the region for thousands of years before it became a national park. "We've not always gotten the stories right at Yellowstone," Sholly says, "[but] we are working with tribal nations to learn how we can tell their stories correctly."
SPRING FORWARD: 19 Best National Parks to Visit in Spring
Sholly says the park has conducted substantial outreach to Native American tribes, inviting them to participate directly in the anniversary. Multiple tribal nations will be present throughout the summer at Old Faithful as part of the Yellowstone Tribal Heritage Center project.
Tribes are also coordinating with Yellowstone to install a large teepee village in the park near the Roosevelt Arch in August, where tribal members will share their culture and heritage with visitors.
A Traditional Connection to the Land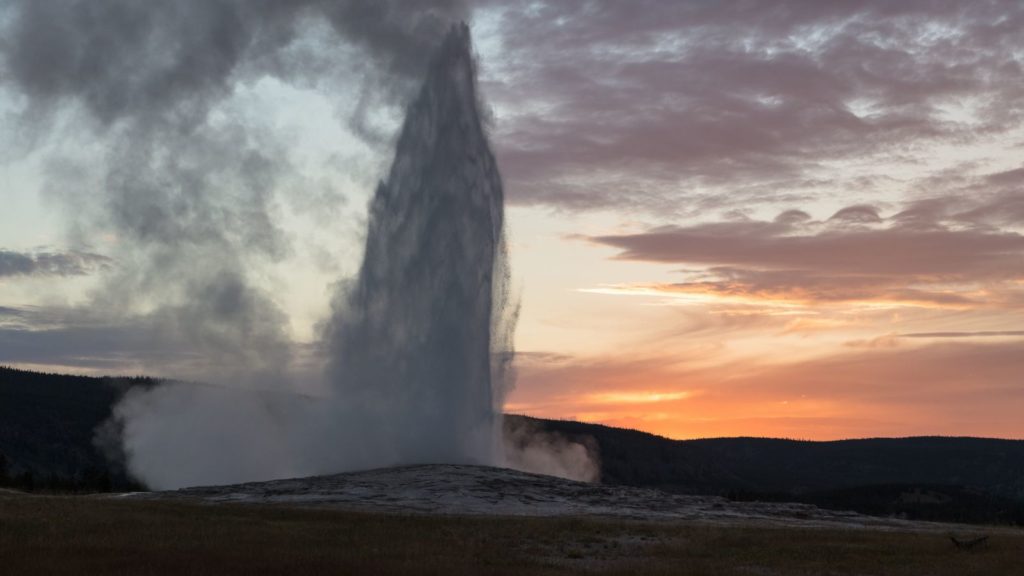 Due to the park's location at the convergence of the Great Plains, Great Basin, and Columbia Plateau, many Native American tribes have traditional connections to Yellowstone and its resources. For more than 10,000 years before Yellowstone became a national park, it was a place where indigenous people hunted, fished, gathered plants, quarried obsidian, and used thermal waters for religious and medicinal purposes.
WINTER WONDERS: 13 Best National Parks to Visit in Winter
"It's worth celebrating the idea of setting land aside for the future," says Scott Frazier, a Crow tribal elder, Santee descendant, and member of Project Indigenous. Native American people see Yellowstone as "their mother," says Frazier, noting "it's a sacred place because of the expressions of the earth moving and bubbling out."
When Frazier brings students to see Old Faithful, Yellowstone's famous geyser, he's amazed at the "oohs and ahhs" that come from the eruptions. These reactions are real, he says, and he credits them to the renewing power of nature on the human soul.
Restoring Balance to Yellowstone
This reverence for nature hasn't always been part of park's story, however. Sholly says that when Yellowstone became a national park in 1872, not a single member of congress had ever visited it. And the initial park management goal was to get rid of large predators in order to protect tourists.
FAMILY CAMPING: The Best National Park Campgrounds for Families
"We decimated the bison population and fed bears out of garbage dumps up until the 1950s," notes Sholly. "In the 60s and 70s, we started to wake up to conservation of the ecosystem. The reintroduction of wolves came in 1995, and today grizzly bear numbers are higher than when Yellowstone became a park. The cougars are back, and the ungulate [bison and bighorn sheep] population is now in balance. In 2022, the ecosystem of Yellowstone is healthier than when the park was founded."
Which means this year is a great time to plan a trip to Yellowstone to celebrate both its natural and cultural significance.
Yellowstone will celebrate its 150th anniversary throughout 2022, and a small public event commemorating the anniversary will take place in the historic Old Faithful Inn on May 6, coinciding with the opening of summer vacation season.
More from FamilyVacationist: