Perched high above the Pacific Ocean just south of the town of Mendocino, Little River Inn looks like a pretty, compact, traditional inn at first glance. In fact, it's a 225-acre resort offering tennis, a nine-hole golf course, a spa, dining room, events facilities, and a variety of rooms and cottages on a large property. The inn is beautifully maintained and superbly located. An easy quarter-mile walk leads to Van Damme State Park and beach, and the Mendocino Headlands and town of Mendocino are just three miles north.
FUN FOR ALL: 12 Great Things to Do in Mendocino with Kids
Owned and run by the same extended family for eighty years, Little River Inn is a welcoming destination for families as well. The original house was built in 1857. In 1939, Ole Hervilla (namesake of Ole's Whale Watch Bar) married the original owner's granddaughter and turned the family home into an inn. Since then, five generations of the family have renovated and further expanded the property with cottages and separate four-room hotel units scattered throughout the property.
Things to Know About Little River Inn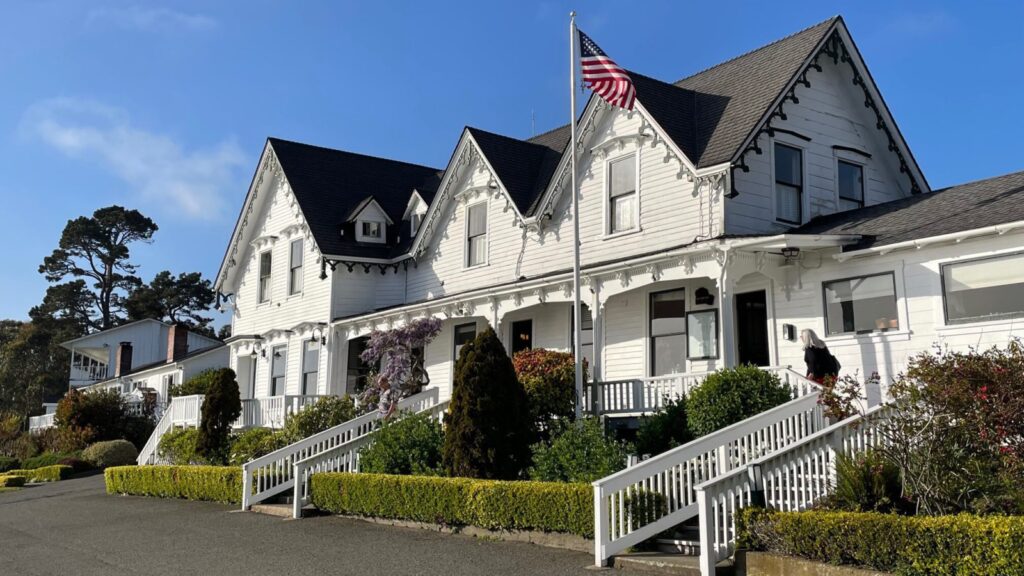 All 65 rooms and cottages offer ocean views, both filtered and unfiltered. Many have balconies.
Children under age 16 stay free.
The restaurant, which is open to the public, has large indoor and outdoor spaces for guests.
Breakfasts are not included in the price of the room but can be ordered from a varied menu and eaten in the dining room or delivered to the room. Don't miss the Swedish Hotcakes.
The inn's nine-hole golf course is the only one on the Mendocino Coast; the property includes a driving range, putting green, pro shop, picnic area, and lighted tennis courts.
The inn is dog-friendly, with designated pet stations and pet-friendly accommodations available upon advance request.
With a sweeping view of the Pacific, the inn is a fine vantage point for whale-watching. Information is available on the migration patterns of gray whales and other species.
Little River Inn Reviews
Little River Inn has ratings of Excellent on Trip Advisor (4.5 out of 5) and Booking.com (9.1/10).
Reviewers are enthusiastic about the ocean views and beautiful surroundings, helpful and friendly staff, high quality food, relaxing atmosphere, and excellent location for a variety of activities. One reviewer noted that there are no elevators to the second-floor rooms.
GEARED TO FAMILIES: 10 Kid-Friendly California Resorts
Here are a few excerpts from reviews written recently:
"Very relaxing spot with minimal road noise and incredible ocean noise!"
"The staff was wonderful, very helpful when you would like suggestions to plan your day."
"A bit pricey, but you get what you pay for."
Important Details About Little River Inn
Location and Property
The Little River Inn sits just next to Mendocino's Little River, which is three miles south of Mendocino and 11 miles south of Fort Bragg on U.S. Highway 1.
The inn sits on 225 acres of woods, lawns, and gardens on a steep slope above the Pacific Ocean.
Rooms
All 65 rooms, on first and second floor, have ocean views. Views are both "unfiltered" and filtered through trees, so keep this in mind when reserving rooms.
SUN, SAND, AND SLEEPS: 8 Best Hotels on the Beach in California
Balconies and patios have Adirondack chairs facing the ocean. Rooms have either gas or wood-burning fireplaces. Several cottages are approximately one mile from the main property.
Activities
Golf, tennis, and hiking trails are available on the property. The inn offers lists and descriptions of activities in the area, along with special packages that include discounted tickets to some venues.
Dining
Breakfast and dinner are served in indoor and outdoor dining rooms. The work of Executive Chef Marc Dym is highly praised by reviewers, and kid-friendly items are on the menu.
Ole's Whale Watch Bar, with a long window facing the ocean and sunset, has a "world-class cocktail program" and a long tradition of camaraderie, humor, and storytelling.
There's also a small market within walking distance. The Little River Market, directly across Highway 1 from the inn, has groceries and a deli.
Accessibility
The inn offers five ADA rooms, and the restaurant, bar, pro shop, and spa are all accessible. Note that the hillside location could make it difficult for some with limited mobility to reach all areas of the property. With advance notice, a guest assistant is available to help.
Other Amenities
The inn offers free parking, free WiFi, and has a business center, room service, and a small gift shop.
What Families Need to Know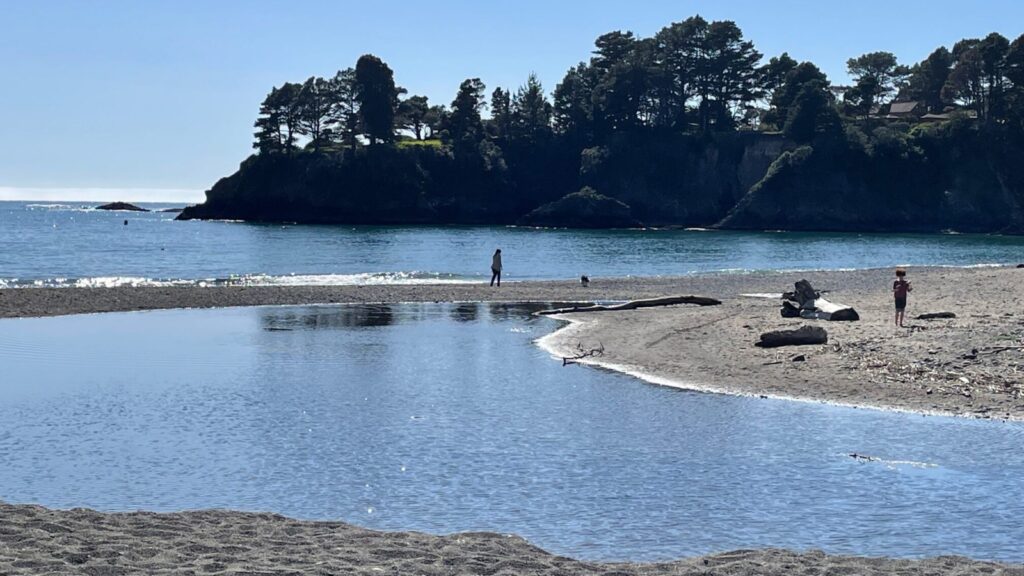 The resort welcomes families, with many options for family rooms. Although there is no playground on the property, large lawns and woodland provide space for children to run and play. An easy quarter-mile trail leads directly to a beach and state park. (The beach is across Highway 1, so children must be accompanied.)
The inn provides suggestions and directions for beaches, hikes, nearby playgrounds, and water experiences for kids. Lighthouse visits, a ride on the Skunk Train, cycling and rail-biking, canoeing, beachcombing, tide-pooling, and swimming at the Fort Bragg Aquatic Center and Water Park will also keep kids busy and happy. Some of the inn's special packages (such as the "Stargazing" and "Family Discovery" packages) are designed to appeal to kids.
What Couples and Solo Travelers Need to Know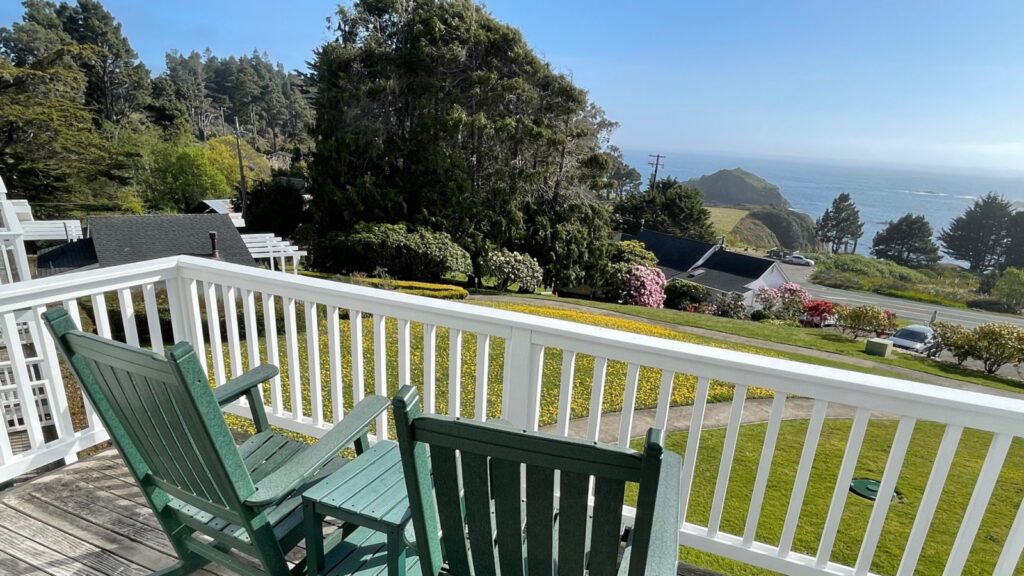 Some rooms are located at the center of busy resort activity—near golf, tennis, spa, and event rooms. At the other end of the property, some hidden in the trees, are quiet, spacious rooms with their own patios or balconies. Staff are happy to consult in advance to help locate rooms matching your preference for activity or solitude. Special wellness and celebratory packages are aimed at adult couples.
FOR COUPLES: 8 Romantic California Getaways
Packages and Special Rates
The Family Adventure Package includes two rooms with two beds each, and a variety of coastal activities can be added to your booking, including discounted tickets for the Skunk Train and Mendocino Coast Botanical Gardens. A Family Discovery Package for two adults and two children provides a five-day self-guided itinerary, a private guided walk with a naturalist, a tour of the B Bryan Preserve Safari, plant identification guides for the Botanical Gardens, a tide pool guide for Van Damme State Beach, and a stargazing map.
The Stargazing Package provides a backpack with a map of current constellations, a flashlight, binoculars, blanket and thermos of hot chocolate. Little River Inn appears on the Thrilllist and USA Today 10 Best List (2021) for stargazing.
There are packages for couples, too. The Wellness Package for Two includes three days in an ocean-view room, a massage, acupuncture appointment, and tickets to the Mendocino Coast Botanical Gardens. The inn also offers an Elopement Package. Really! It provides the officiant, flowers, photography, dinner, cake, and champagne.
More from FamilyVacationist: