Thanks to its remote location, Westgate River Ranch Resort and Rodeo in Lake Wales, Florida, feels worlds away from the Orlando theme parks, even though it's only about an hour's drive south.
As the name implies, this family glamping resort hosts a lively rodeo every Saturday night—with additional nights during the prime summer vacation months—and there are a whole host of other outdoor activities to choose from when building a family vacation here, too.
Things to Know about Westgate River Ranch Resort and Rodeo
Westgate River Ranch Resort and Rodeo is an authentic dude ranch in Polk County, Florida.
The resort offers a variety of accommodations from standard guest rooms to teepees and covered wagons.
The resort's secluded location means a peaceful, relaxing vacation that's hard to find amidst the hustle and bustle of Central Florida.
There are a range of outdoor activities to fill your time. Many require an additional fee, but activities are included with your stay if you choose a luxe teepee or covered wagon.
From groceries to Starbucks coffee, everything you need during your stay is available on property at Westgate River Ranch Resort and Rodeo.
What Families Should Know
Long before families traveled to this rural area of Central Florida for vacation, cowboys traveled through River Ranch on cattle drives. Situated on the banks of the Kissimmee River, the 1,700-acre ranch feels secluded because it is. River Ranch lies in the middle of 400,000 acres of protected wetlands, which you can experience for yourself during your stay.
Though the area surrounding the property is largely unpopulated, there's really no reason to leave Westgate River Ranch Resort once you arrive. Everything you need—from groceries to s'mores supplies to fun family activities like a petting zoo and airboat rides—is available on property.
FAMILY CAMPING: 10 Best Campgrounds and RV Parks for Families
Westgate River Ranch Resort offers a range of accommodations to suit all family sizes and budgets. You can bring your own tent or RV, reserve one of the resort's tents, stay in the lodge or a private cabin, or go all out in one of Westgate's luxe teepees or covered wagons (and enjoy the extra perks that come with it).
Onsite resort activities include classic pastimes like swimming, line dancing, archery, and horseback riding, plus more contemporary activities like a zip line, escape room, and swamp buggy rides. You can schedule as many or as few activities as you like and spend your time in between activities swimming, playing horseshoes, or sitting by the campfire.
Westgate River Ranch Resort and Rodeo Reviews
Westgate River Ranch Resort and Rodeo earns a rating of 4.0 out of 5 on Trip Advisor based on more than 500 reviews, 8.0 out of 10 on Booking.com based on around 90 reviews, and 8.0 out of 10 on Hotels.com based on around 80 reviews. Reviewers enjoyed the western theming and range of activities, but guests also noted some of the accommodations were dated and could use refurbishment.
Important Details About Westgate River Ranch Resort and Rodeo
Westgate River Ranch Resort and Rodeo's Location
Westgate River Ranch is located in Lake Wales, Florida, just off Florida State Road 60 on the eastern edge of Polk County. As you drive along State Road 60 toward the resort, you'll notice fewer homes and businesses and more pristine Florida wilderness.
It's just over 60 miles south of Walt Disney World's theme parks, water parks, and resort hotels, and less than an hour from LEGOLAND, which is also in Polk County. Though most guests arrive by car, there's a private air strip on property that can accommodate private planes and helicopters. If you're flying commercial, the resort is about 90 minutes from Orlando International Airport and just under two hours from Tampa International Airport.
The Property
Accommodations and activities are spread out around the expansive resort property. You could walk from your room or tent to the various spots for dining and activities, but most guests use one of the resort's golf carts. A golf cart is included with some room types, but they are also available for rent. There's ample parking, so you also have the option to drive around the resort.
The different types of accommodations—like glamping tents or cabins—are grouped together, and most areas have a common area with a fire pit and games like horseshoes or tetherball. The rodeo arena, saloon, and Adventure Park are centrally located and serve as the largest gathering area at the resort.
HOTEL DEALS: The 10 Best Hotel Booking Sites for Cheap Prices
Families can visit the Adventure Park for ziplining, mini golf, and bungee jumping. In the evening, adults can enjoy a beverage at the River Ranch Saloon. There's live music and line dancing at the saloon every Friday and Saturday night.
Some activities, like airboat and swamp buggy rides, must be scheduled in advance, but others like the Adventure Park, swimming pool, petting zoo, pony rides, and pond fishing can be visited any time during the day.
Rooms at Westgate River Ranch Resort and Rodeo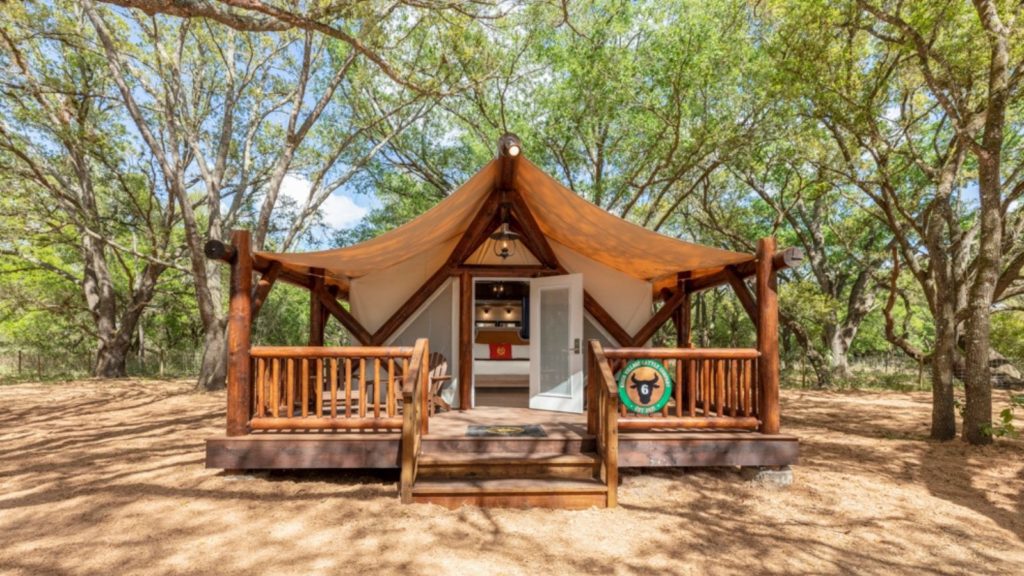 Westgate River Ranch Resort's room types range from primitive to luxury. The type of accommodations you choose will depend on your budget, family size, and vacation style. Here's an overview of the selection of accommodations available:
Tent Camping.Bring your own tent and pitch it in Westgate's open campsite area. You'll have access to bathroom facilities and showers within walking distance, and supplies like firewood and charcoal are available in the General Store.
RV Camping. Back-in and pull-through sites are available for you to park your RV. All sites have partial hookups and access to nearby bathroom and shower facilities.
Platform Camping. Platform camping offers all the fun of the great outdoors without the hassle of packing and setting up a tent. Your six-person tent will be pitched and ready when you arrive, and each site has a charcoal grill, electrical outlet, and room to park up to two cars. Access to nearby shower and bathroom facilities is also included, as well as a communal fire pit and water spouts.
Cabin. Studio, one-bedroom, and two-bedroom cabins are available. Studio cabins have a kitchenette, while one- and two-bedroom cabins come with a full kitchen. All cabins are fully equipped with utensils and cookware and are decorated with a western theme.
Cottage. Cottages come in one- and two-bedroom configurations and have separate living and dining areas, a furnished screened-in patio, and televisions in each unit.
Rail Car. Rail cars are smaller than the cabins and cottages, but they are a great alternative if you want to stay somewhere unique. Each rail car sleeps up to four guests (including bunk beds for the kids) and has a full kitchen, furnished covered porch, and televisions in the bedroom and living area.
Lodge Room or Suite. The lodge offers standard guest rooms and suites that sleep between two and four people, depending on which room you choose. Standard rooms have a kitchenette with microwave, toaster, and mini-fridge, while suites also include an oven. Each room is outfitted with a television as well. The lodge rooms and suites are located close to the swimming pool, saloon, and Adventure Park.
Glamping Tent. Glamping tents are fully furnished, air conditioned, and equipped with a microwave and mini refrigerator, but still have a rustic feel. They also come with a personal concierge to help you schedule activities, deliver linens, bring your morning juice and coffee, and light the fire pit each evening so you can make s'mores. The luxury glamping tents offer all of this, plus a private bathroom, pastries to go along with your juice and coffee, and a more refined interior.
Luxe Teepee. The Luxe Teepees are one of two "luxe" options at the resort. In addition to upscale accommodations like a fireplace, kitchenette, and clawfoot tub with shower, the real perk of Westgate's luxe teepees (and wagons, which we'll get to in a moment) is the full-service concierge, morning coffee and pastry service, complimentary resort activities (including VIP rodeo seats), and golf cart included with your stay.
Luxe Conestoga Wagon. These have all same luxe benefits that come along with staying in the teepees, but you'll stay in a replica covered wagon with modern amenities like a gas grill, furnished deck, kitchenette, full bathroom, air conditioning, comfortable king bed, and twin bunk beds.
Dining
Westgate River Ranch Resort and Rodeo has a few onsite dining options, but only one full-service restaurant. Westgate Smokehouse Grill overlooks the Kissimmee River (the best views are on the covered patio) and serves steak, seafood, ribs, burgers, sandwiches, salad, and quintessential Florida fare like gator bites and key lime pie. Dine-in and carryout are both available.
The well-stocked General Store carries grocery items and has a deli that serves breakfast, pizza, sandwiches, salads, and Starbucks coffee drinks. Next door to the General Store is a Western Store where you can get gussied up with a cowboy hat or boots to complete your dude ranch experience.
Over at the River Ranch Saloon, over-21 guests can choose from a full range of adult beverages. Kids are welcome in the saloon until 10 p.m. each night, but there's an arcade next door they may find more appealing.
Activities
There's a large variety of activities to choose from at Westgate River Ranch Resort and Rodeo, so it should be easy to find something fun for everyone in the family. All of these are included if you stay in a luxe teepee or covered wagon, but some require an additional fee for other guests.
Rodeo. Westgate River Ranch hosts an action-packed rodeo every Saturday night, and sometimes during the week in the summer months. Resort guests and locals come together in the large rodeo arena for an evening of trick riding, bull riding, and barrel racing. Rodeo tickets are available at the door and come included when you stay in a luxe teepee or Conestoga wagon.
Horseback Riding. Guests ages eight and up can take part in a 45-minute, expert-led horseback ride through the resort's scenic trails. Advance reservations and an additional fee are required.
Adventure Park. The Adventure Park is an outdoor family fun center with a mechanical bull, rock climbing, mini golf, bungee jumping, and a zip line. It's right next to the saloon and rodeo arena. You can pay for each activity individually, or purchase an Adventure Pass that lets you play as much as you want for the entire day.
Fishing. There's a large catch-and-release pond located next to the marina office. Complimentary cane fishing poles are available if you don't have your own, and live bait is available for purchase in the marina office. No reservations are necessary.
Escape Room. The difficulty level is just right for families, and they'll throw a hint or two your way if time starts getting tight. Advance reservations and an additional fee are required.
Petting Farm and Pony Rides. Kids can meet sheep, pot-bellied pigs, and a lot of other animals, then hop on a pony ride. Admission to the petting farm is free, but there is a fee for pony rides.
Pool. There's an outdoor swimming pool onsite with plenty of loungers, tables, and complimentary life jackets and towels.
Swamp Buggy Rides. Guests can enjoy a 45-minute ride through the swamplands on an elevated swamp buggy, while observing Florida wildlife (including a gator or two) along the way. Advance reservations and an additional fee are required.
Shooting and Archery Range. Westgate's shooting range offers something for all levels and skill sets, including skeet and trap shooting, air rifle shooting, and archery. Advance reservations and an additional fee are required.
Airboat Rides. Take off on the Kissimmee River for a fast-paced airboat ride. Guides slow down often to point out birds, turtles, and alligators. Advance reservations and an additional fee are required.
COVID-19 Precautions
All of Westgate's resorts around the world follow a thorough set of COVID safety precautions, including extensive cleaning and sanitization of guest rooms and common areas, hand sanitizer stations, and precautionary protocols for all team members.
More from FamilyVacationist: