The first-ever collaboration between Cirque du Soleil, Walt Disney Animation Studios, and Walt Disney Imagineering, Drawn to Life expertly combines acrobatic expertise with the art of storytelling in a way that's never been done before.
By the end of the show, I'd laughed, gasped with excitement, and cried the type of tears I couldn't quietly hide from the other guests in my row. Judging by the lengthy standing ovation given to the cast, crew, and creators of the show following the final act, I was far from the only one in the audience who was blown away by this performance.
The Story of Drawn to Life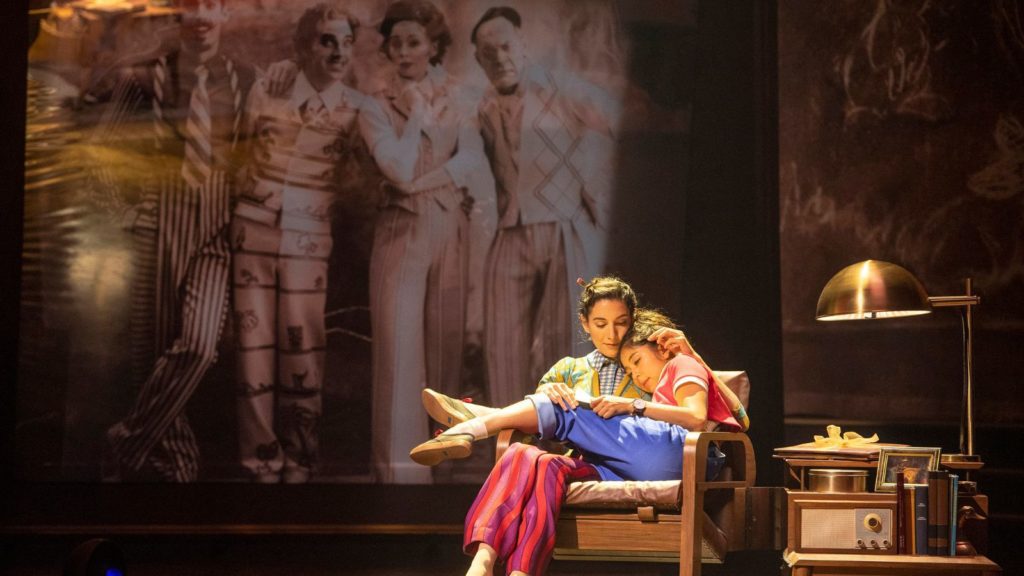 Drawn to Life tells the story of a 12-year-old girl named Julie. In the opening act, Julie's mother presents her with a letter from her father, a Disney animator who recently passed away. In the letter, Julie's father reveals that his final wish was for her to finish an animation sequence he never had the chance to complete. In true Disney fashion, this gift sends Julie on a journey of self-discovery in a fantastical, dream-like world that only Cirque and Disney could conjure.
PLEASE REMAIN SEATED: Read Our Monthly Theme Park News Column by Tarah Chieffi
For research and inspiration, Disney allowed Cirque du Soleil unprecedented access to the Walt Disney Archives, Walt Disney Animation Studios (and some of its legendary animators), The Walt Disney Family Museum, and many, many visits to Disney theme parks.
In a recent press conference, Drawn to Life's writer and director, Michel Laprise, described the show as a "love letter to the art of animation." By combining acrobatics, an original score that playfully hints at popular Disney songs, larger-than-life set pieces, animations (some of which are all-new), Disney's vast film library, and on-stage projections that bring the sets to life, each act highlights the various facets of animation in tandem with Julie's journey.
Drawn to Life Review: What Parents Will Love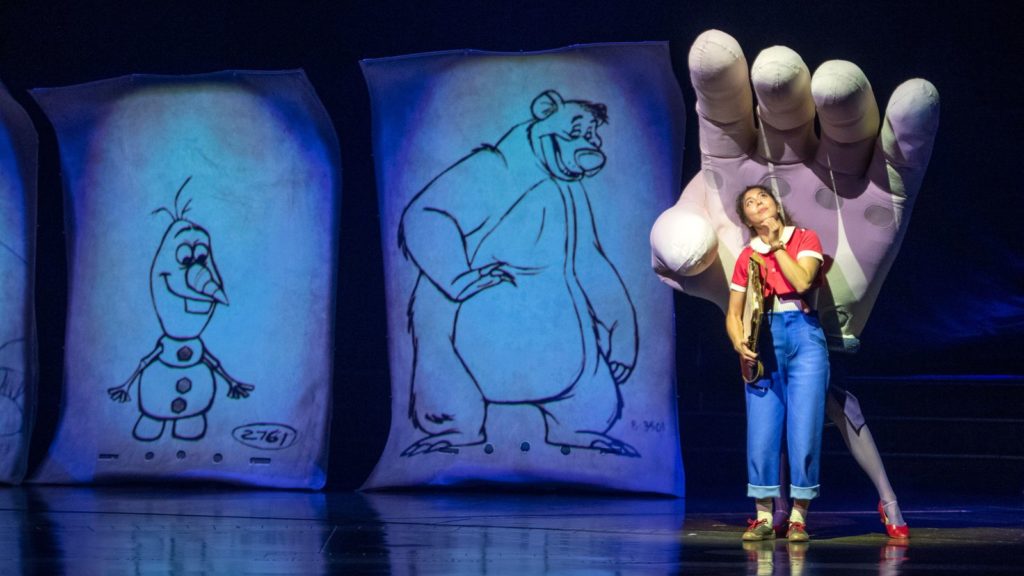 At its core, Drawn to Life is a celebration of Walt Disney animation and how this particular art form bonds a father and daughter, even after he can no longer be with her in person. The show relies heavily on classic films, from Disney's groundbreaking 1937 animated short, The Old Mill, to childhood favorites like Dumbo, Pinocchio, and Cinderella. I was overwhelmed with feelings of nostalgia that brought me back to the first time I saw many of these films.
ULTIMATE GUIDE: Disney's Star Wars Hotel Blasts Off Soon, Here's Everything You Need to Know Before Your Voyage
Aside from the skill and talent, Drawn to Life is packed with comedic moments. There's an entire act based on animators playfully shooting rubber bands at each other after a long week at work, and I couldn't help but giggle at the unexpected jokes that poke fun at the Frozen films.
What Kids Will Love About Drawn to Life
Everything about Drawn to Life is big, colorful, and exciting. Kids (and adults) will find themselves saying, "How'd they do that?" throughout the show. There was one act in particular where my rational brain told me the performer must have been attached to a wire, but I couldn't see one anywhere. I couldn't keep up with how many balls the juggler was juggling, the unicyclists danced around with a grace I didn't know was possible while balancing on one wheel, and performers in other acts flew further and flipped higher than I believed possible.
While watching the show, I couldn't help but think about how potent the message of self empowerment could be for kids. Through each act, Julie grows more confident in her artistic abilities and squashes her hesitation and self doubt (played by a hilarious pile of crumpled up papers who turns out not to be as evil as she seems).
MAGICAL CELEBRATION: All the Details of Disney World's 50th Anniversary Daytime and Nighttime Entertainment
Because of the subject matter and 90-minute run time, Drawn to Life may be best suited for older children. I hesitate to suggest a specific age because the show is captivating and engaging and every child's attention span is different. Personally, I would take my eight-year-old, but my younger children may not be ready to sit through a show this long.
Pro Tip: Arrive at the Theater Early
Before the show began, Cirque performers were engaging with kids in the audience by inviting four of them onstage to make drawings. While they were working, a small group of performers were interacting with guests and keeping the crowd entertained until everyone was seated.
Prior to the opening act, they displayed the children's creations for the whole audience to see, using one of the large projection screens that would be used again during the show. After a round of applause, the children were sent back to their parents and it was time for the show to begin.
Getting Tickets for Drawn to Life
Drawn to Life plays select nights at Disney Springs. Tickets are available online or by calling (877) 924-7783.
More from FamilyVacationist: