It's been a while since Disney announced that Splash Mountain would be reimagined at both Magic Kingdom in Disney World and at Disneyland Park, making way for a new ride inspired by the animated film The Princess and the Frog. While we're still a few years away from the opening of that new ride (to be called Tiana's Bayou Adventure), we're now learning key details about the upcoming attraction.
ALL THE DETAILS: Everything You Need to Know About Disney Genie and Genie+
Splash Mountain Will Become Tiana's Bayou Adventure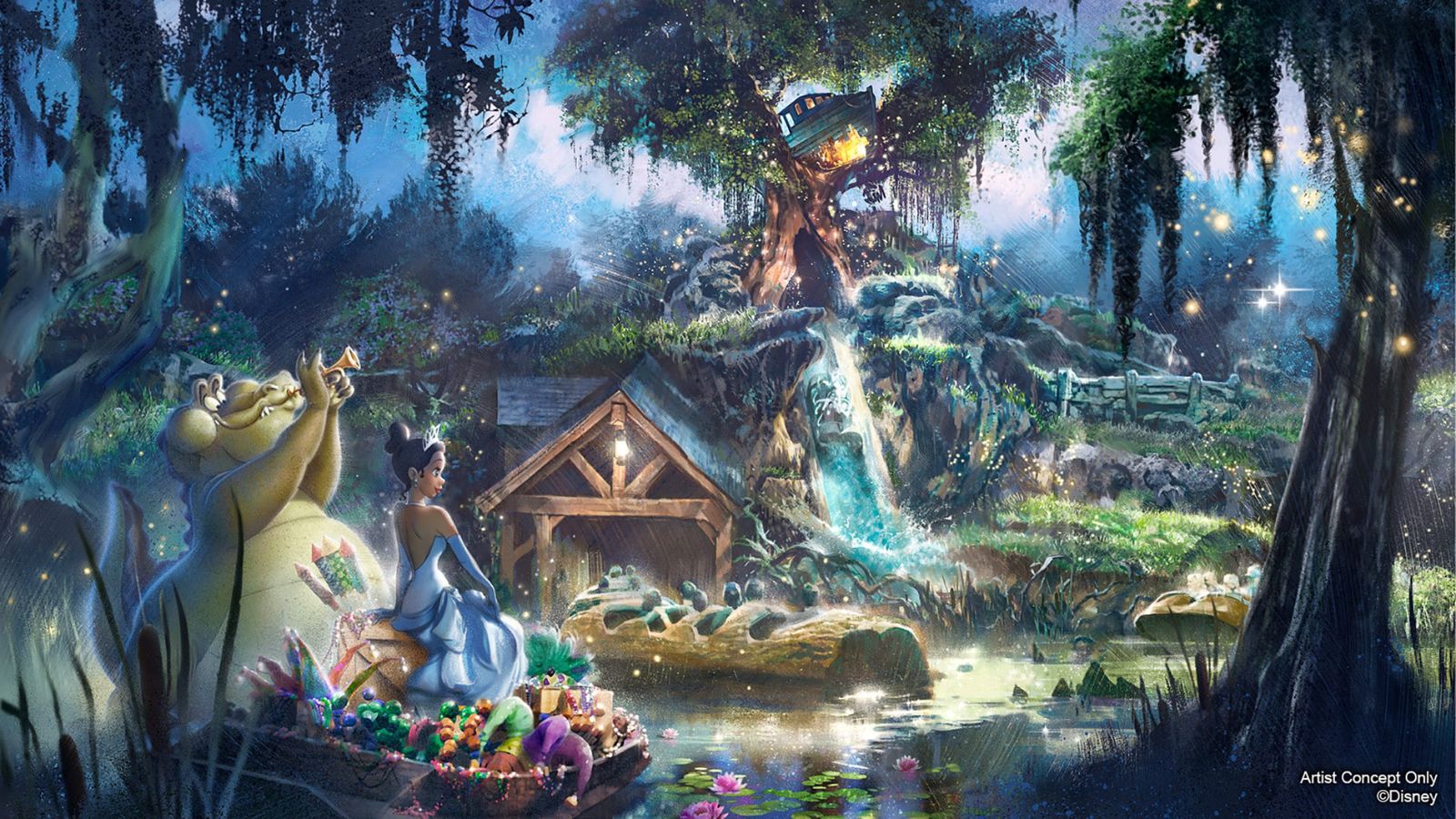 Splash Mountain will permanently close at Magic Kingdom starting on January 23, 2023 (with its last day of operation being January 22) to make way for work to begin on the new ride. During the ride's transformation, Imagineers will use the existing structure originally built for Splash Mountain to create an entirely new experience for guests.
The storyline of Tiana's Bayou Adventure will take place following the events of the 2009 animated film, where Princess Tiana, Prince Naveen, Louis the trumpet-playing alligator, and more prepare for a Mardi Gras celebration "for the people of New Orleans." Riders can expect music deeply rooted in the history and culture of New Orleans to play a huge role in the storytelling of this new attraction.
MORE NEWS: Adventureland Treehouse to Replace Tarzan's Treehouse at Disneyland in 2023
Much like Splash Mountain, Tiana's Bayou Adventure will host a large cast of audio-animatronic figures, including a brand-new Tiana animatronic (per reporter Scott Gustin). Guests will also be introduced to 16 new characters throughout the ride.
While we may have to wait until the ride opens to see these animatronics in person, Disney has released some concept art over the past couple of years, giving us a glimpse at a couple of the ride's scenes—including when guests first plunge into the mountain as well as the exterior of what the ride may look like once complete.
The Expanding World of The Princess and the Frog
Tiana's Bayou Adventure will not be the only place where guests can enter the world of The Princess and the Frog at Disney Parks.
This September, a new shop called Eudora's Chic Boutique Featuring Tiana's Gourmet Secrets opened in New Orleans Square at Disneyland. And speaking of Disneyland, the Happiest Place on Earth will also open a rare new dining location called Tiana's Palace; additional details of when the restaurant will open have yet to be announced.
Tiana's Bayou Adventure is scheduled to open at both Disney World and Disneyland in late 2024. The exact opening date, as well as the closing date for Disneyland's Splash Mountain (currently located in Critter Country) will be announced at a later time. When Tiana's Bayou Adventure opens at Disneyland, the ride will be located in New Orleans Square.
More from FamilyVacationist: