Welcome to Please Remain Seated, FamilyVacationist's monthly theme park news column by Tarah Chieffi. Keep reading for the latest news and tips from the world of Disney, Universal, and other popular parks.
Happy New Year! I wish I had a crystal ball so I could get a crystal clear picture of what's to come in 2022, but for now I'll have to settle for crossing my fingers, hoping for the best, and navigating the world in its current state while staying as safe as possible.
Even if I did have a crystal ball, I'm not sure I'd have any idea how to use it, so I'll just stick to reporting theme park news. Already this year, we've got a long list of roller coasters and special theme park events to look forward to. Wishing you a happy, safe, and healthy 2022 with more thrills than your favorite coaster!
Theme Park News for January 2022
2022 Ride Opening Rundown
Let's get right into it with a rundown of the surprisingly long list of roller coasters coming to U.S. theme parks this year. Most years, it's typical to see a few new ride openings, but because the pandemic delayed construction and pushed back many opening dates, 2022 is setting up to be a banner year for new rides.
Here's what coaster enthusiasts have to look forward to in the year ahead.
Guardians of the Galaxy: Cosmic Rewind at Walt Disney World. Disney still hasn't announced an exact opening date for Guardians of the Galaxy: Cosmic Rewind, but we do know it's slated to debut in summer 2022. We also know it'll be a kid-friendly theme park ride (think somewhere between Seven Dwarfs Mine Train and Rock 'n' Roller Coaster), the cars rotate a full 360 degrees to point you toward the action, and it's the first reverse-launch coaster at any Disney park.
Iron Gwazi at Busch Gardens Tampa Bay. With a top speed of 76 miles per hour and a 91-degree, 206-foot-tall drop, Iron Gwazi will be the country's tallest hybrid coaster and the fastest and steepest hybrid coaster in the world when it opens in March 2022. Iron Gwazi is replacing a wooden dueling coaster called Gwazi that closed in 2015.
Ice Breaker at SeaWorld Orlando. Opening in February 2022, Ice Breaker's unique design means riders will experience multiple forward and backward launches and a 100-degree, 93-foot-tall drop, the steepest beyond-vertical drop in Florida.
Pantheon at Busch Gardens Williamsburg. Florida won't have all the new coaster fun this year! Pantheon is scheduled to open in March 2022 at Busch Gardens Williamsburg in Williamsburg, Virginia. With a top speed of 73 miles per hour, four launches, and two inversions, Pantheon will be the world's fastest multi-launch coaster (and not for the faint of heart).
Dr. Diabolical's Cliffhanger at Six Flags Fiesta Texas. This year's coasters are breaking records left and right. Dr. Diabolical's Cliffhanger will be the world's steepest dive coaster when it opens in 2022 (no official date has been set). The "cliffhanger" part of the name refers to the moment where the ride pauses at the top of a 150-foot drop before hurtling down at 60 miles per hour.
Wonder Woman Flight of Courage at Six Flags Magic Mountain: Because of its single-rail design and single-file seating configuration, you really will feel like you are flying on Wonder Woman Flight of Courage. Add it to this year's list of record breakers because it'll be the tallest and longest single-rail coaster on the planet when it opens in summer 2022.
Emperor at SeaWorld San Diego: Named for the Emperor penguin, SeaWorld San Diego's Emperor coaster (scheduled to debut in March) will be California's first floorless dive coaster. After facing down a 143-foot drop at 60 miles per hour, you can visit real Emperor penguins at the nearby Penguin Encounter.
Festivals and Special Events Returning to Disneyland
Until Disneyland brought back its Halloween and Christmas celebrations in 2021, the park's special event calendar had been sparse. But that's all about to change in 2022. Disney California Adventure's Lunar New Year celebration returns January 21 through February 13, followed by the popular Disney California Adventure Food and Wine Festival from March 4 through April 26.
NEW TRIPS: 10 Best Places to Go with Kids in 2022
Also returning are the park's after-hours Disneyland After Dark events. Sweetheart's Nite, Villains Nite, and Star Wars Nite events are separately ticketed events with themed food, drinks, entertainment, photo opportunities, characters, and more.
Disney's Magical Express Is No More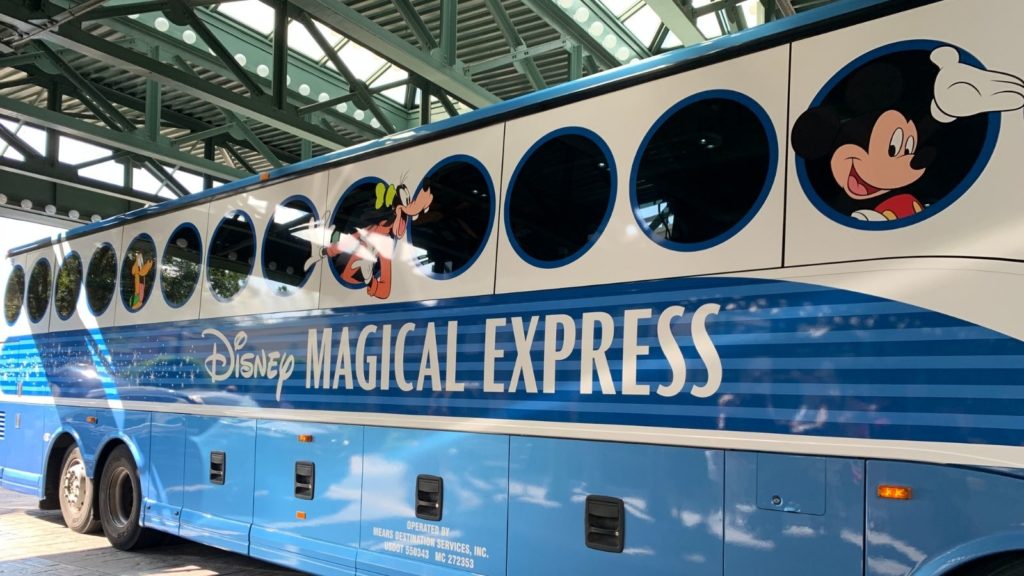 As of January 1, Disney's Magical Express is no longer transporting guests between Orlando International Airport and Walt Disney World. The complimentary service had brought Disney hotel guests (and their luggage) to and from Disney World for more than 15 years and it was a huge perk of staying on property.
The bad news is there is no longer a free way to get between the airport and your Disney World hotel. The good news is you do still have options including car rental, rideshare services, and the all-new Mears Connect.
SUNSHINE STATE: 10 Dreamy Beach Resorts in Florida That Are Perfect for Families
Mears is the same company that operated Disney's Magical Express, and the service is very similar, but there is a fee. The cost for standard service is $32 round trip for adults and $27 for children ages three to nine (one-way prices are also available). Much like Disney's Magical Express, the standard service stops at multiple Disney resorts, but you can opt for the Express Service that will take you directly to your resort with no additional stops along the way. The round-trip cost is $250 for up to four passengers and $55 for each additional passenger.
One of my favorite things about Disney's Magical Express was how my luggage would magically appear in my hotel room after I arrived, but Mears Connect currently offers no similar service. The FAQ section on their website does say they may offer luggage services in the future, however.
Typhoon Lagoon Reopens After an Almost Two Year Closure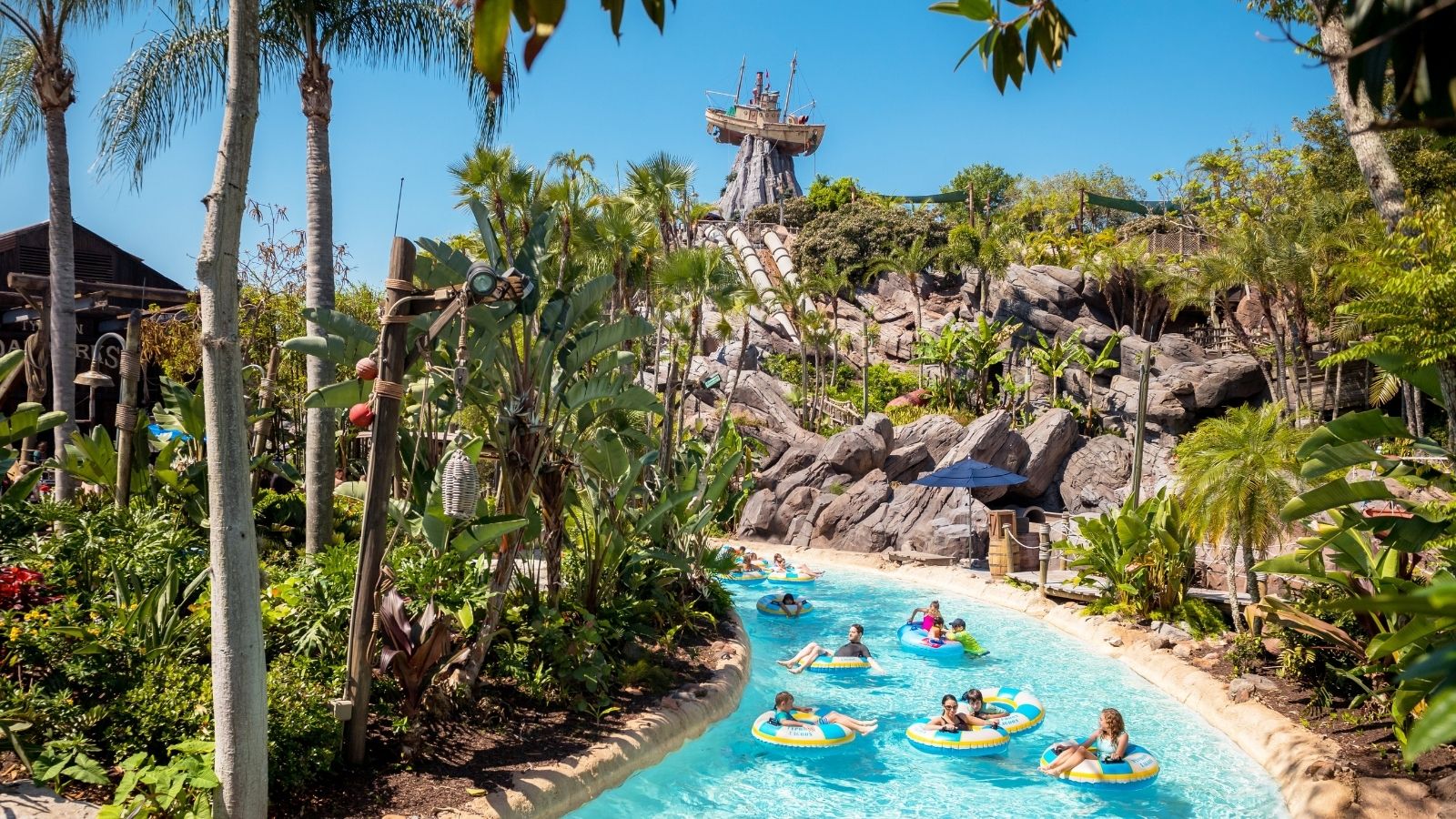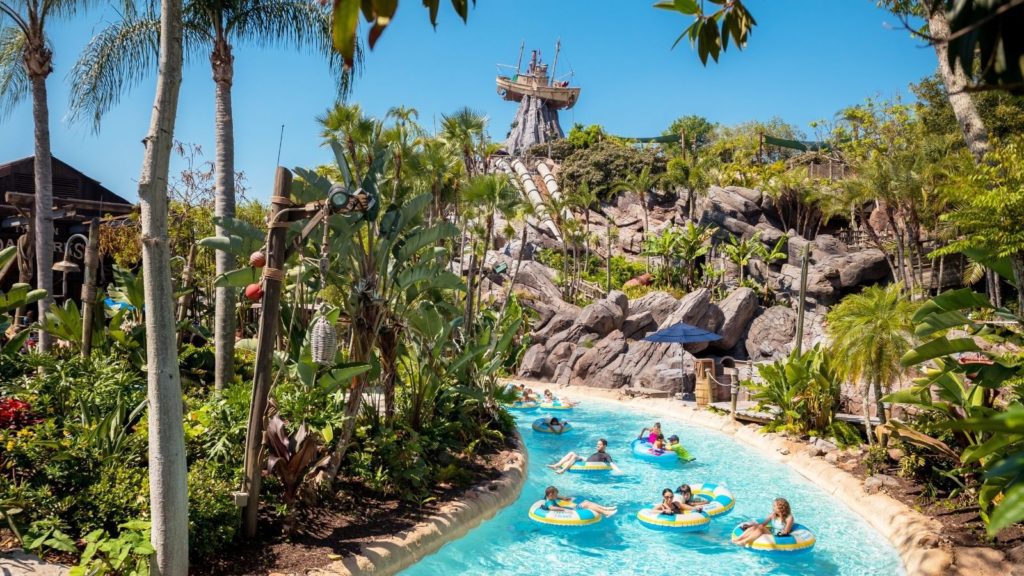 Since reopening in July 2020 after a brief closure due to coronavirus, Disney World has slowly been reintroducing popular attractions and experiences. As of January 2, that list now includes Disney's Typhoon Lagoon Water Park.
While Disney World does have two water parks, there are certain things you can only do at Typhoon Lagoon. Crush 'n' Gusher is Disney World's only water coaster, Miss Adventure Falls is one of the only water raft rides I've ever heard of that has an animatronic, and you can take surf lessons in the giant wave pool.
ORLANDO WATER PARKS: Blizzard Beach vs. Typhoon Lagoon: The Ultimate Guide to Disney's Water Parks
Water slides are fun and all, but I was most excited to see there will be new build-your-own Dole Whip treats at the park's Snack Shack eatery. You can create your own combination with flavors like mango, lime, raspberry, or pineapple Dole Whip, and adults can top it off with a tequila, coconut rum, or dark rum floater.
Tips For Your Trips
How I Save Money on Theme Park Snacks
I'd never claim to be the most frugal theme park-goer, but I try to be smart with my money in some areas so I can splurge in others. One of those is snacks and drinks, especially when we're traveling as a family of five. 
SAVE MONEY: These Are the Best Hotels Near Disneyland for Families on a Budget
There are certain theme park treats I will happily splurge on, like frozen Butterbeer at the Harry Potter theme park areas of Universal Studios. But to save money I usually place an order through Shipt or Instacart on our arrival day. I'll stock up on water, sports drinks, granola bars, fruit, crackers, jerky, and other snacks that we can pack along with us into the parks or eat during an afternoon break at the hotel. 
Yes, it saves money, but it also ensures I have something yummy and distracting to throw my kids' way if they start to get bored or hangry while waiting in line. It's a win-win.
Theme Park Food Resolutions for 2022
I'm not really one for New Year's resolutions, but in the spirit of new beginnings I thought we could all make a resolution together! I consider myself to be a fairly adventurous eater, but I do have a habit of returning to old favorites rather than trying something new. This is especially true when I'm at a theme park and most meals and drinks are a little more expensive than I'm used to at home.
With so many new dining options at theme parks, though, my 2022 theme park food resolution is to try new things. I vow not to fall back on the same old, same old. I promise to pop into new restaurants, sample dishes I usually ignore, and order new-to-me cocktails. I'm not making any promises about oysters, though. Maybe in 2023.
Like always, I'll be popping by every month this year to share anything new I try. Happy New Year!
More from FamilyVacationist: