There's something especially sweet about shopping for little kids during the holiday season. At this age, the top toys for Christmas are more tactile and tangible than Christmas gifts for teens, which trend more toward video games and other electronics. For little ones, including toddlers and babies, there's a unique joy that comes with watching them open their presents and discover an actual toy inside.
Top Toys for Christmas 2021
This year, our top Christmas toys include perennial favorites like Plah-Doh sets and marble mazes (both with exciting new twists), plus new books, new card games, and new ways to learn.
Christmas Toys and Gifts for Little Kids
The Original Stomp Rocket Stunt Planes Launcher
Your kids won't even know they're learning about science and engineering when they're stomping away to send three different foam stunt planes into the air. A tried-and-true Christmas toy, the Stomp Rocket Stunt Planes Launcher gets kids outside, plus there's no batteries to buy and no assembly required! (Ages 5 and up.)
Play-Doh Kitchen Creations Rising Cake Oven Playset
Have fun with Play-Doh in a whole new way with this bakery play set where cakes "rise" in front of kids' eyes. A dinging sound lets them know when it's time to decorate with the help of the included sprinkle maker mixing bowl, decorating tool, and five colors of Play-Doh. (Ages 3 and up.)
Carrera GO!!! Build 'N Race 11.81-ft Slot Car Race Track Set
This new slot car set from Carrera earns its billing as one of the top toys for Christmas by letting kids design their own racetrack with almost 12 feet of track, then race the included truck and car to see which one is fastest. The set's also compatible with major building block brands so that kids can add custom touches to their racing experience. (Ages 6 and up.)
Only in America!: The Weird and Wonderful 50 States
Strange claims to fame. Weird laws. Wacky place names. Kids will find all that and more in this new book that explores the quirky and unusual side of the U-S-of-A. The book is arranged state by state, and all those odd facts are accompanied by cool vintage-style graphics. (Ages 6 to 8.)
VTech KidiZoom PrintCam Digital Camera and Printer
Know a budding shutterbug who'd love a real working camera for Christmas? This kiddie camera takes photos that can be downloaded to a computer or instantly printed out as black-and-white images on the included paper with borders, filters, and other effects. Kids can also play games when they're not snapping pics. (Ages 4 to 11.)
Inside Cat
A new children's book from New York Times bestselling author and illustrator Brendan Wenzel, Inside Cat follows a feline as it observes its indoor world. Along the way, it will encourage kids and parents to use their imaginations and notice details about what's on the page and all around them. (Ages 3 to 5.)
ThinkFun Gravity Maze
Perennially one of the top toys for Christmas, ThinkFun's newest marble maze set comes with 60 different challenges that become harder the more kids succeed at getting the marble into the target. They'll have fun while (shhh!) also using their minds to develop spatial reasoning and planning skills. (Ages 8 and up.)
A Bedtime Full of Stories: 50 Folktales and Legends from Around the World
This new book that makes a great Christmas gift for curious readers features beautifully illustrated tales and legends, including classics like "The Emperor's New Clothes" and less-well-known stories from countries like South Africa, New Zealand, and Guatemala. It'll have kids drifting off to sleep dreaming of faraway places. (Ages 5 to 8.)
Throw Throw Avocado
This new game combines cards and dodgeball for another winning combination from the makers of Exploding Kittens and Throw Throw Burrito, themselves both popular Christmas gifts for kids. Gameplay includes tossing two foam avocados at other players that are "soft enough to throw at your Great-Aunt Martha." A bonus pack of cards lets you combine the game with Throw Throw Burrito for a whole new wacky experience. (Ages 7 and up.)
Christmas Toys and Gifts for Babies and Toddlers
Petit Collage Multi-Language Numbers + Shapes + Colors Wooden Tray Puzzle
This multitasking wooden puzzle isn't just a fun toy for little kids. It also helps little ones learn numbers, shapes, and colors in six different languages. Plus, as they're moving the chunky pieces around, they'll be developing fine motor skills and hand-eye coordination as they go. That's some pretty power-packed playtime. (Ages 3 and up.)
Fisher-Price Giant Rock-A-Stack
One of the most iconic toys for toddlers, the Giant Rock-A-Stack from Fisher-Price, got a mega makeover and now stands 15 inches tall for even bigger fun. Babies and toddlers can stack the six rainbow-colored rings on the wobbly base and shake the top ring to hear a playful rattling sound. (Ages 1 and up.)
Old Navy Unisex Microfleece Critter Hat & Mittens Set for Baby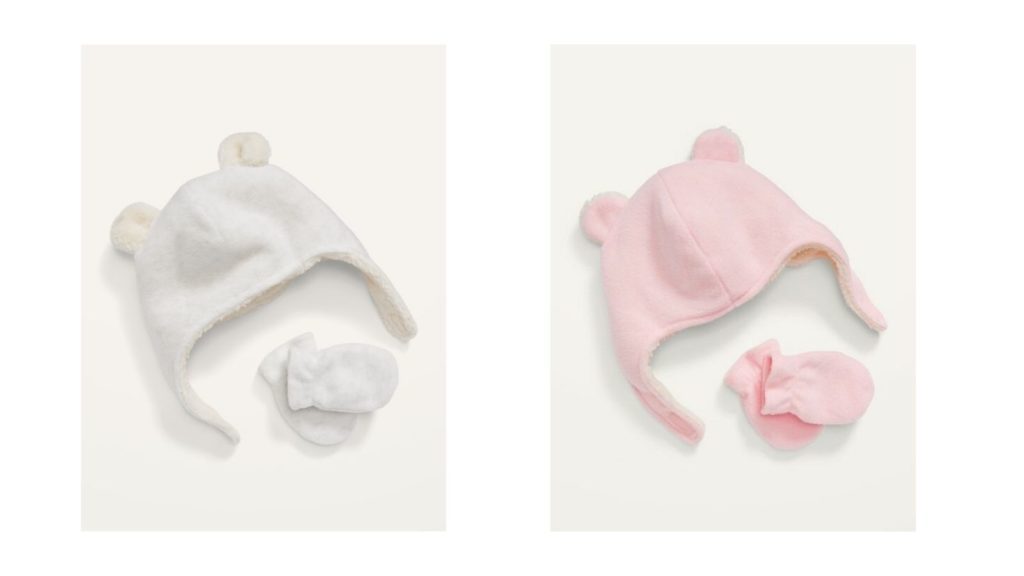 Holiday gifting isn't limited to Christmas toys for kids. There's nothing cuter than a baby in a little hat with ears. This adorable unisex option from Old Navy is made with cozy microfleece and a plush sherpa lining, and it even comes with coordinating mittens. A handy chin strap helps ensure it actually stays on baby's head. (Ages 0 to 24 months.)
More from FamilyVacationist: