I know Halloween is barely in the rear view mirror, but winter is closing in fast and it's time to get in the holiday spirit. As a native Floridian and theme park journalist, maybe I shouldn't admit this, but I've never seen Disney World or Universal Orlando during the holidays. But that little plan I mentioned last month to visit the parks with our kids (minus the baby)? It's all set and I am ready for some Christmas magic in 2020!
We'll be spending two days at Disney and two days at Universal this month eating, riding, swimming, and hopefully meeting Santa. Watch this space next month with a full report on what the holidays are like this year at Orlando's theme parks, where coronavirus safety measures are still very much in effect.
In the News
It's Beginning to Look a Lot Like Christmas
As I mentioned, the holidays are nearly here and, though modified for health and safety reasons, the nation's theme parks are ready to celebrate. At Disney World, the festivities kick off on November 6. Though most of the seasonal food, entertainment, and decor will be based at Magic Kingdom, all four parks as well as Disney Springs and Disney's resort hotels will be merry and bright. (One thing to note is the Taste of EPCOT International Festival of the Holidaysdoesn't start until a few weeks later on November 27.)
Universal Orlando has yet to officially announce its holiday plans (the information on the park's website hasn't been updated since their temporary closure earlier this year), but the elves are working overtime decorating Hogwarts and Seuss Landing, so I think it's safe to say news is imminent.
Other parks getting in on the winter action include Dollywood, LEGOLAND Florida, Busch Gardens Tampa, SeaWorld Orlando (along with San Diego and San Antonio), and Hersheypark.
Universal Beijing Resort Might Be Universal's Coolest Park Yet
On October 20, Universal Beijing Resort unveiled a sneak peek at the lands, attractions, and hotels coming to the resort when it opens in 2021. Alongside familiar lands like The Wizarding World of Harry Potter and Jurassic World will be lands unique to this park, including Transformers Metrobase and Kung Fu Panda Land of Awesomeness.
Personally, I'm most drawn to the giant volcano in Jurassic World. It's not even a ride, it's just a theming element—though concept art does show an attraction running through it—but details like this are what fully transport guests to the land they're exploring.
Further Support for Laid Off Theme Park Employees
Layoffs are still hitting the theme park industry hard. On October 28, the Actors' Equity Union, which represents many of the entertainment cast and crew at Disney World, announced that 720 of the 780 members they represent were laid off. This means longtime shows like Festival of the Lion King, Hoop-Dee-Doo Musical Revue, and Indiana Jones Epic Stunt Spectacular are gone and we have no idea when they could possibly return.
That in and of itself is devastating, but layoffs have hit many other departments at Disney and Universal parks, too. Last month, I shared a few ways you can give back to the people who have given so much of their lives to theme park fans, but as the situation has evolved, the support has grown exponentially.
There's a Cast Member Pantry that provides food for laid off Disney Cast Members, the Second Harvest Food Bank that serves all of Central Florida, and a couple of Facebook groups where furloughed or laid off workers share their other talents: Ear For Each Other showcases side hustles and gift ideas from Disney workers, and Family Is Universaldoes the same for Universal employees. Anyone can join these groups, and with the holidays coming up, they're both great places to look for gifts while supporting a small business at the same time. I've already ordered some earrings and a hair clip and I'm excited to pick out some Christmas gifts, too.
Update on California Theme Parks
On October 20, we got a long-awaited update from California Governor Gavin Newsom on when we might finally see the return of theme parks in the Golden State. Unfortunately, it wasn't good news for those who were hoping to visit anytime soon. Most California theme parks are in counties that are nowhere near the necessary reopening threshold that's been set by the state government.
Some analysts think it could be next summer before larger theme parks are allowed to open. Nobody can argue with wanting to keep employees and visitors safe, but this could prove disastrous to an already hurting economy. The California Attractions and Parks Association (CAPA), which represents California's theme parks, issued a statement the same day stating that they believe they can reopen safely and responsibly and urging Newsom to let them do so.
In the interim, a few California theme parks have found ways to partially reopen. SeaWorld San Diego is currently operating as a zoo (no rides, but lots of cute animals), Knott's Berry Farm is hosting a holiday-themed Taste of Merry Farm food festival starting November 20, and Disneyland recently announced it will soon be expanding its current Downtown Disney District shopping and dining options onto Buena Vista Street in Disney's California Adventure.
Tips For Your Trips
Disney World's Star Wars: Rise of the Resistance Changes Boarding Procedure
If you're among the many, many theme park fans who have shown up at Disney World's Hollywood Studios park with the hopes of joining Rey and Finn by getting a boarding group for the ever-popular Star Wars: Rise of the Resistance, only to be let down when the boarding groups disappeared in seconds, I might have good news for you.
The ride uses a unique-to-Disney virtual queue system. When the queue opens, you can try to get a boarding group (a.k.a. return time) through the Disney mobile app, but with so many people trying to get a spot, the boarding groups are gone almost as soon as they become available. Currently, you have to be inside the park to join a boarding group, but that is all about to change.
Beginning November 3, guests with a valid park ticket or annual pass and a Park Pass reservation for Hollywood Studios will be able to access the virtual queue system from wherever they are (even from the bed in your hotel room). It's still a somewhat confusing process, but the first boarding groups will now be available at 7:00 a.m. (previously 10:00 a.m.) and you don't have to be inside the park to smash that "Join" button.
This won't necessarily increase your chances of getting a boarding group, but at least you can find out before you get to the park instead of rushing to get there before rope drop. Even if you do miss out on the 7:00 a.m. queue, a second one opens at 2:00 p.m. so you can try again. For that one, you do have to be inside the park, so keep that in mind.
This is where I throw in the obligatory, "May the Force be with you."
Just Desserts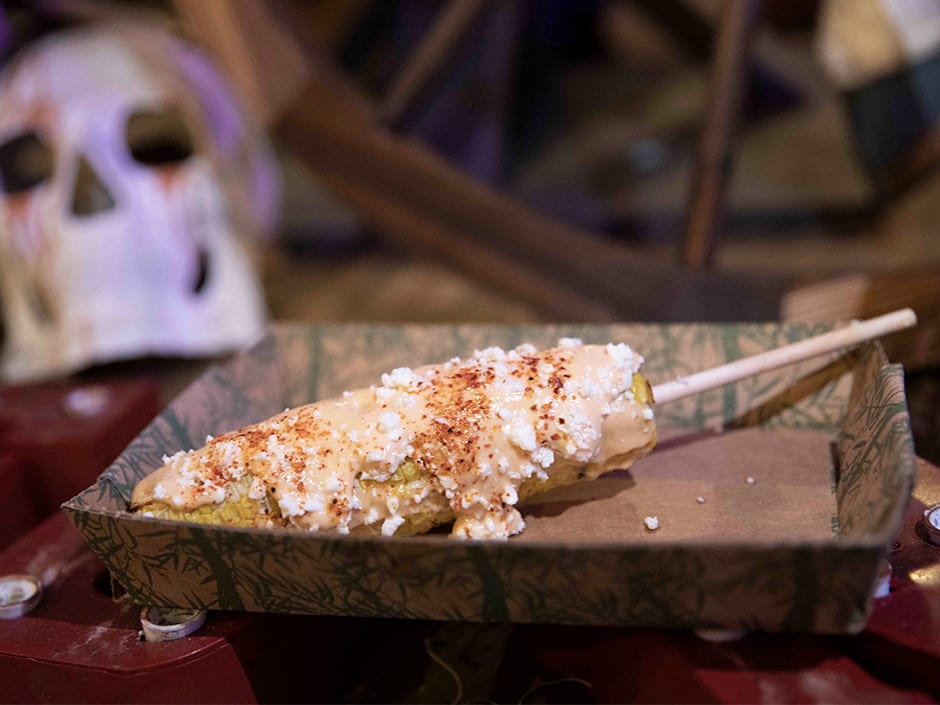 I've been hitting refresh on the Disney Parks Blog nonstop since we booked our trip. I'm impatiently waiting for Disney to release its typical "Foodie Guide" for all the holiday treats that'll be available through November and December.
Until then, I've been drooling over the new Mickey's Celebration Pancake from Chef Mickey's that comes topped with shimmering pixie dust! The restaurant doesn't reopen until December 16, so I'll have to wait a bit to find out if eating a pixie-dusted pancake will turn me into Tinkerbell. Fingers crossed!
In the spirit of Halloween, both Disney and Universal have still been doling out at-home recipes for those of us who need our theme park food fix. Disney recently released five pumpkin-filled recipes you can make at home and Universal added two Halloween Horror Nights favorites, Nachos Queso Fundido and Grilled Street Corn, to its virtual cookbook.
Have fun cooking up something spooky and I'll see you right here next month!
More from FamilyVacationist: