Nothing pairs better with a family staycation than a backyard fire pit. With your outdoor fire roaring, you'll feel like you're at one of your favorite family resorts, vacation rentals, or campgrounds as you roast marshmallows and gather around the flames with your family and friends—right in your own yard.
The Best Fire Pit for Your Backyard
Fire pit ideas range from basic and budget-friendly to high-style and loaded with extras. We've rounded up these top choices based on customer reviews, ease of use, and functional features, with both wood-burning and propane options.
TIKI Brand 25″ Stainless Steel Low Smoke Fire Pit
The TIKI 25-inch stainless fire pit gets hundreds of five-star reviews on Amazon and is our pick for the top overall fire pit of the year. It's not only a highly attractive option, but it also has an internal airflow system that helps reduce smoke and ash. With a stainless-steel burning chamber and a powder-coated exterior, it's made to withstand the elements and it even comes with its own cover.
MOVIE MAGIC: 10 Best Outdoor Projector Screens for Backyard Movie Nights
You can use it as a traditional wood burning fire pit with regular firewood, or opt for a TIKI Brand Wood Pack for easy lighting and about 30 minutes of burn time. Reviewers love the "generous flame" and good amount of heat it produces, saying they're "in love with it" and that "there is nothing to dislike about this fire pit."
Where to buy: Amazon
Sunnydaze Decor 34″ x 23″ Round Large Steel Cauldron
This outdoor cauldron from Sunnydaze Decor is a good option for basic backyard needs. It's generously sized, has built-in grate strips to hold firewood in place, and comes with a firewood poker and spark screen to help you safely tend to your flames.
GREAT READS: 33 Books Like Harry Potter to Binge on Your Next Vacation
With dark bronze legs and a bowl covered with black high-temperature paint, it's a good fit for just about any style or type of backyard. Reviewers like its functionality and sturdy build, calling it a "good solid quality product," "perfect for bonfires," and a "great fire pit for the money."
Where to buy: Amazon | Home Depot | Walmart
Solo Stove Yukon 27″ Round Stainless Steel Wood Burning Fire Pit
This extra-large wood burning fire pit from Solo Stove really helps you feel the burn in your backyard or patio. It's got a double-wall design and vent holes at the bottom for a more efficient burn with less smoke. Cleanup is also easy because all that's left after a wood-fueled fire is ultra-fine ash.
STAYCATION 101: How to Plan the Perfect Backyard Staycation
Hundreds of reviewers give it five stars and love that it doesn't leave you smelling smokey, calling it "a must purchase," "the best invention ever," and "absolutely worth the money." Solo Stove also has a smaller 19.5-inch option called Bonfire that works well for more compact spaces or for taking with you on the go.
Where to buy: Amazon | Home Depot
Aditya 20" x 30" Steel Wood Burning Outdoor Fire Pit
Reviewers love the glowing effect created by the star and moon cutouts on the bowl of this affordable choice from Sol 72 Outdoor. Made of powder-coated steel to help prevent rust, it's lightweight and comes with everything you need to make manning an outdoor fire easy. That includes a log grate, fire poker, and spark screen for when you're gathering around the flames, and a cover to protect it from the elements when not in use.
COMFORT FIRST: The Most Comfortable Travel Clothes Brands for the Whole Family
More than 2,000 reviewers give this wood burning fire pit five stars, saying it's "easy to assemble," "everything I wanted," "a good purchase for a great price," and a "perfect little fire pit."
Where to buy: Wayfair
Outland Living Firebowl 893 Deluxe Outdoor Portable Propane Gas Fire Pit
There's no firewood needed with this flexible option that can go from backyard to beach to camping trip. The lightweight gas fire pit comes with a cover and carrying kit plus a pre-attached ten-foot hose for hooking it up to a propane tank. Enjoy no ash and less smoke with this option, which has a lava rock set to help give the flames a flickering effect and an adjustable regulator to choose the flame height that works best for your situation.
PACKING MADE EASY: 10 Best Luggage Brands for All Types of Travelers
The Outland Living Firebowl has gotten thousands of five-star reviews on Amazon, earning raves for how easy it is to use and its portability. Reviewers call it "worth every penny," "great for any setting," and say they "would buy it again in a heartbeat."
Where to buy: Walmart
Easyfashion Heavy Duty Metal Hexagon Stove
Stand out from the pack with the hexagonal Easyfashion Heavy Duty Metal Fire Pit, a deviation from the usual circular shape. The deep hexagonal-shaped bowl holds plenty of firewood and is covered with a protective mesh screen that limits sparking but still allows the fire's warmth to escape. A coordinating cover further helps keep sparks at bay, and the fire pit is easy to move from spot to spot.
TOILETRY TIPS: 11 Multitasking Beauty Products That Make it Easier to Travel
Reviewers give it thumbs up for its looks, construction, and easy assembly, saying it "looks amazing in our yard" and is the "best fire pit I've ever had."
Where to buy: Walmart
Endless Summer 24" x 30" Steel Propane Outdoor Fire Pit
This propane-powered square fire pit idea from Endless Summer conceals the tank inside a decorative base. The control panel is also hidden behind a door on the base, keeping all of the operational elements out of sight. The fire pit's table-like looks mean it could fit into lots of different spots in your backyard and offers functionality even when it's not lit. And because propane fuels the flames, there's zero cleanup after a fire.
BEACH DAYS: 5 Breezy Beach Tents That Are Easy to Set Up and Take Down
Hundreds of five-star reviews praise the fire pit's attractive appearance and easy setup. Reviewers say they "highly recommend this product," that it's "perfect for my small outdoor space" and the "best thing we bought all year."
Where to buy: Amazon | Wayfair
FAB BASED Portable Outdoor Wood Burning Fire Pit
Is it a grill? Is it a fire pit? Actually, the portable outdoor wood burning fire pit from FAB BASED is both thanks to a removable grill grate you can use for cooking burgers and dogs but take off when you just want to enjoy a fire. The fire bowl has a wide, deep basin for holding enough wood for a good-sized fire, and a mesh lid to help keep sparks from escaping. Cutouts both aid airflow and add to the fire pit's aesthetic appeal. An included poker helps with tending to the flames.
FIT IT ALL: 10 Sturdy and Stylish Beach Bags That Get the Job Done
Five-star reviews mention its sturdiness, affordable price, and versatility, with reviewers calling it "beautifully designed," the "perfect size," and "even better than what I expected."
Where to buy: Amazon
Best Choice Products Gas Fire Pit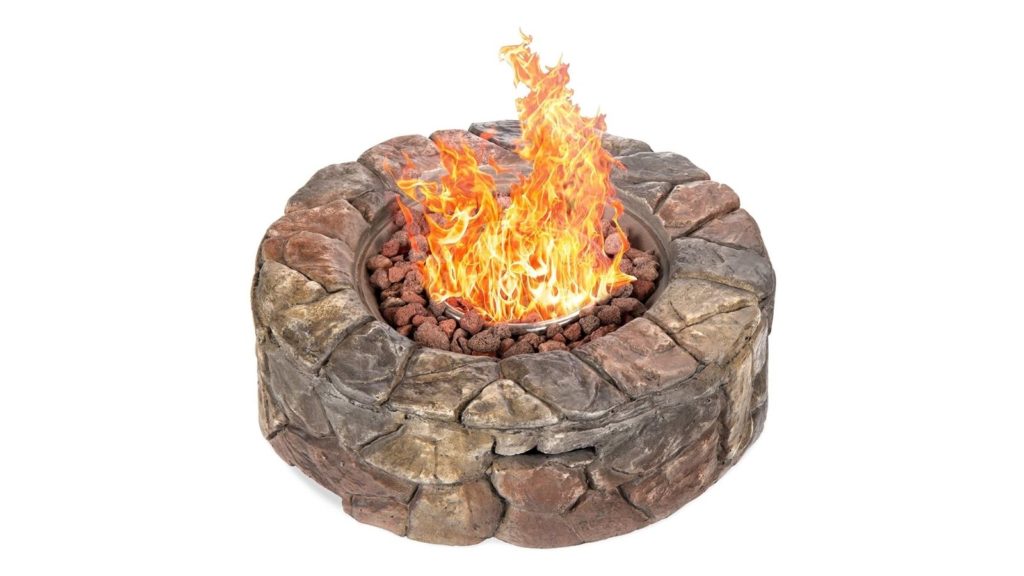 This circular fire pit idea has the classic stone look but uses propane instead of wood to produce the flames. That means the fire's easy to get started and has a heat level that can be adjusted. An included cover helps keep it safe from all kinds of weather conditions when not in use. There's minimal setup involved, and the built-in handles make it easy to move.
FLY WISE: Best Flight Booking Sites for Travelers
Reviewers rate it highly for its appearance, value, and functionality, calling it a "good looking product for the price," "very attractive and just the right size," and something that "looks like I spent way more money on it!"
Where to buy: Amazon
City Bonfires
No room for a big fire pit in your outdoor space? You can still bring some of that fun to your backyard with this tabletop option from City Bonfires. The recyclable steel tin contains non-toxic FDA-food-grade soy wax and eco-friendly compostable plant-based briquettes, which means the whole family can safely roast marshmallows over this little guy. It's also easy to take with you when you travel or head off for a family beach vacation or weekend of family camping.
DISNEY DESIGNS: 10 Fun and Functional Disney-Themed Suitcases
It's got a total burn time of three to five hours and can be extinguished and relit for additional uses. Reviewers like that there's no smoke and it's easy to use anywhere, saying it "gives off a nice amount of heat around a table" and is the "coolest little bonfire for any poolside, beach, or outdoor gathering."
Where to buy: Amazon
Fire Pit Safety Tips
We don't want to put a damper on your fun, but according to data from the Consumer Products Safety Commission, fire pits and outdoor heaters cause more than 5,000 injuries a year that send people to the emergency room.
To use yours responsibly, follow these fire pit safety tips:
Place it a good distance from your home, your neighbor's home, and any vegetation in your yard. Check the instruction manual that comes with your portable fire pit for tips and guidelines, and see if the community in which you live has any rules about the proper positioning of a fire pit. At least 10 feet of buffer zone is a good rule of thumb, and more is usually better.
Don't put your portable fire pit on something that could burn, like a wooden deck. If it's going directly on the ground, Consumer Reports suggests clearing the area of foliage in a circle at least twice the pit's diameter.
A spark screen is always a good idea. Keep a garden hose and/or a bucket of sand at the ready nearby, just in case.
Hardwoods like hickory, oak, and ash are good choices for firewood that burn for a long time. Soft woods like pine or cedar can smoke a lot and shoot off sparks.
Keep chairs a safe distance from the flames, and never leave the fire (or any kids gathered around it) unattended.
Don't plan a backyard fire on windy days. The National Fire Protection Association also recommends checking with your local fire authority to see if backyard fires are currently allowed depending on the weather conditions in your area.
Whether you have a permanent fire pit at your home or one that's portable, Allstate recommends checking the coverage on your homeowner's insurance policy. The insurance company also says that it's always a good idea to let your insurer know about the new addition to your property if it's a permanent structure, just so you're prepared for a worst-case scenario.
Make sure the fire is out when you're done with it. Insurance company Farm Bureau Financial Services recommends that you "drown the fire pit with water and mix the ashes and embers with soil." It also suggests scraping partially burned logs to remove hot embers. Your portable fire pit might also come with instructions on the best way to properly ensure that your fire is extinguished.
Do-It-Yourself Outdoor Fire Pit Ideas
Want to build your own fire pit? First pick a good location in your yard (see the safety tips below for advice). Then decide on the shape you want.
For a round fire pit, you'll need trapezoidal concrete blocks that fit together without gaps. For a square, you'll want rectangular blocks that can be stacked in whatever pattern you choose. Most fire pits are around three to four feet across.
Building a safe, sturdy structure requires steps like creating a gravel base, adhering your stones or blocks together, and finding the right fire bowl or ring insert for your design. If you're a total DIY beginner, you might want to go with a fire pit kit that simplifies the process a bit. If you're experienced, you can pull off something more custom.
Both Home Depot and Lowe's have good instructions you can use to get started. Tools you'll need include a good shovel, tape measure, and a level.
More from FamilyVacationist: