Enjoying your pregnancy has a lot to do with making yourself as comfortable as possible during this special—and uncomfortable—and fleeting—phase of life. This is when comfy pants truly have their moment and are at their most indispensable. But opting for comfortable maternity clothes doesn't mean you can't look your best while wearing them. Read on for a look at the best maternity pants across a range of categories.
Best Maternity Work and Dress Pants
Motherhood Maternity Secret Fit Belly Straight Leg Maternity Pants
These straight-leg maternity pants by Motherhood Maternity strike the perfect balance between corporate and comfortable. The polished plaid pattern pairs well with a white button down or blazer and can be dressed up or down with flats or low heels.
"I really love the fit of these pants," says a verified buyer on Motherhood.com. "The belly has stretched along with my growing belly and the style is perfect in my office setting."
The Curie Secret Fit Belly Twill Slim Ankle Maternity Pant
For a fresh summertime look when you're expecting, these cropped, ankle-length pants cut a slim profile and pair beautifully with a flouncy top or bump-hugging tank. The Secret Fit Belly feature pulls up high to support your growing middle.
BABY ON BOARD: The Complete Baby Packing List: What to Pack When Traveling with a Baby
"I did not expect to love these pants as much as I do," says a reviewer on a Pea in the Pod's website. "They are actually flattering and comfortable, which is a rarity in maternity pants. I've been able to wear them to work throughout my pregnancy, from little bump to gigantic."
Best Maternity Yoga Pants
Motherhood Maternity Women's Maternity Essential Stretch Full Length Secret Fit Belly Leggings
Amazon reviewers swear by these ultra-comfortable leggings that stretch in all the right places to make pregnancy yoga as comfortable as it should be. The Secret Fit Belly panel pulls up high over your bump, too, for added support as you grow.
"They don't have the waist band bump that's so annoying with other leggings," says one Amazon user, "They're smoothing, comfortable, they stay up, and you can't see your underwear through them. Best leggings ever."
Motherhood Secret Fit Belly Boot Cut Maternity Yoga Pants
Super comfy and roomy through the legs, these boot cut maternity yoga pants by Motherhood are likely to hold your interest off the mat, too. The jersey knit cotton/spandex blend hangs just right to wear with sneakers or flip-flops, and the pants have the Secret Fit Belly panel that fans of the maternity brand swear by.
MAKE IT SPECIAL: 22 Romantic Babymoon Ideas for Expecting Couples
Like one Motherhood.com verified buyer, you may enjoy them after you deliver, too. "I ended up having a c-section," she says. "I bought these pants to wear home from hospital. They are so comfy and not too tight around my incision. My go-to pants if I have to leave the house now!"
Maternity Crossover Panel Active Leggings—Isabel Maternity by Ingrid & Isabel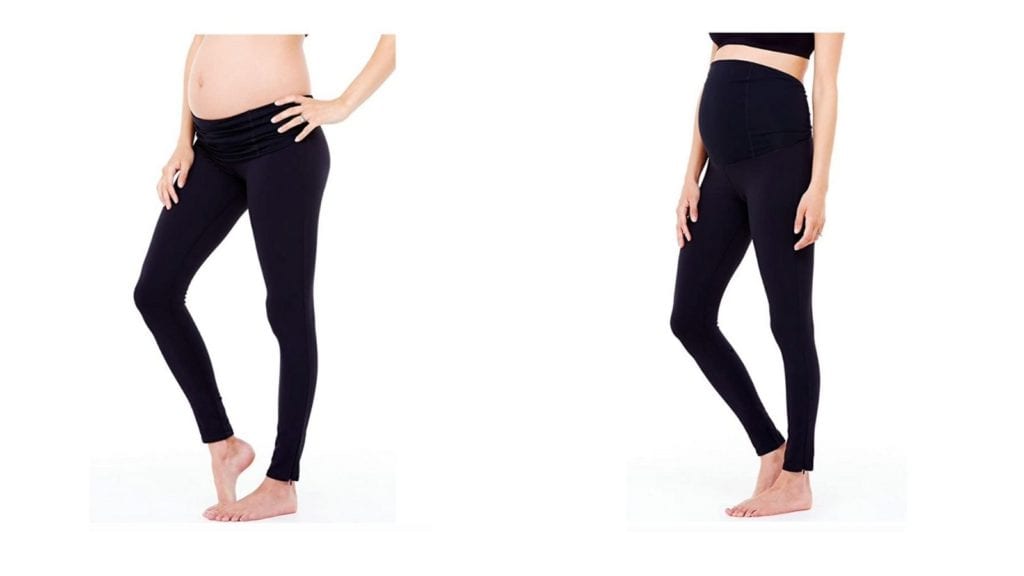 Made with four-way stretch fabric with antimicrobial and moisture-wicking properties, these active maternity leggings have a special crossover paneling designed to provide extra back support to pregnant women. For a flattering look for your next workout, they're hard to beat.
EXPECTING PARENTS: 7 Best All-Inclusive Resorts for Couples on a Babymoon
Attests a verified, then-pregnant purchaser on Target.com: "Excellent workout legging. Not see-through, very comfortable, flattering fit, and stayed up during the entirety of my hour-long walk/jog yesterday."
Best Maternity Scrub Pants
Cherokee Workwear Professionals Women's Maternity Soft Knit Waistband Scrub
Available in 17 different colors to ensure no day at the hospital or doctor's office is the same (when is it, anyway?), these scrub pants by Cherokee are the far and away Amazon favorite. They're made of a poly-cotton and spandex mix and have a stretchy belly panel and cargo pockets, as well as a dedicated cell phone pocket.
They're a favorite with taller women, too, as one Amazon user attests: "They were the perfect length with the tall length and stretched with me," she says, "And you couldn't tell they were maternity scrubs."
Cherokee iflex Women's Mid Rise Straight Leg Pull-On Scrub Pant
Here's a more slim-fitting option for maternity scrub pants by Cherokee that comes in 23 cheerful colors and has a comfort knit waist band that's shorter (from top to bottom) than the usual belly panel. Made from 94 percent polyester and six percent spandex, the Cherokee iflex scrubs also excel at keeping wrinkles at bay.
Two cargo pockets, a coin pocket and a hidden waistband pocket are good for stashing keys, your phone and other things. "They are a nice material, not your typical scrub material and almost silky," says an Amazon user. "Sharp looking scrub."
Med Couture Women's Knit Waist Maternity Scrub Pant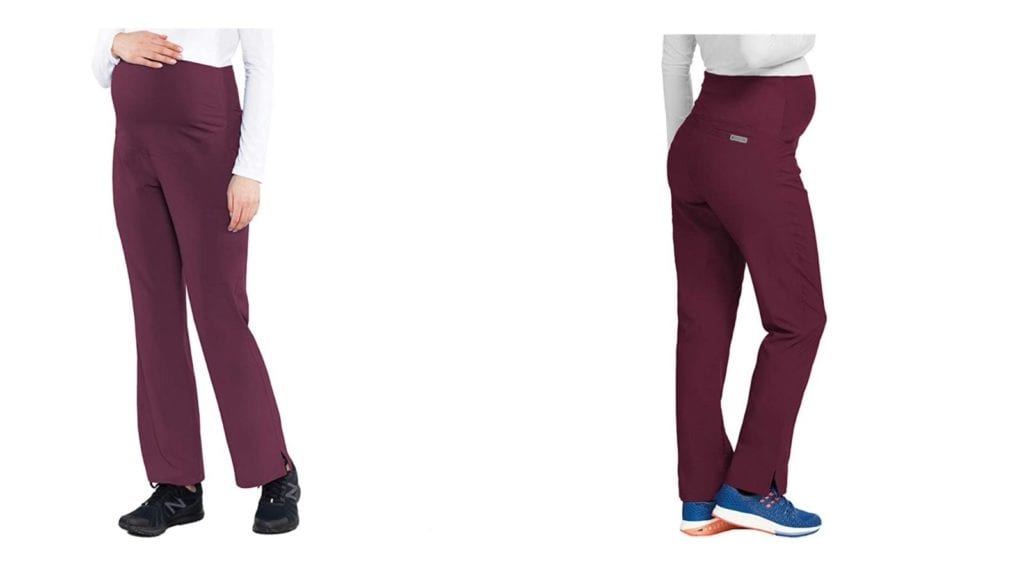 With side vents on the boot cut legs, these popular maternity scrub pants by Med Couture fit well with those comfy, big-profile hospital shoes made by brands like Crocs and Dansko. The knit waist panel provides support for your bump and the pants have a single cargo pocket on the side of one leg, as well as a rear pocket for a sleek, fitted look.
ALL ABOARD: 8 Best Baby Bike Seats and Trailers
"If you are in search of maternity scrub pants that look similar to normal scrub pants then these are the ones for you!" gushed one Amazon user. "Once on you will look as though you are not wearing maternity scrub pants at all!"
Best Tall Maternity Pants
Signature by Levi Strauss & Co. Gold Label Women's Maternity Skinny Ankle Jeans
Stretchy premium denim pairs with a smooth knit panel for your tummy in these maternity jeans that suit tall women well. Do be aware that the belly panel isn't as supportive as those in some other pants. But for a slimming look and length, these are a winner.
"I am 5'10, preggo, and wore a size four before pregnancy," says an Amazon user. "I got a medium pair of these pants soon into this, as this is my second baby and I am gaining faster. The pants themselves are very comfortable, but the belly band is not as supportive as I'd like it."
The Maia Tall Secret Fit Belly Skinny Ankle Maternity Pants
The smooth stretch fabric that keeps its shape after washing and skinny fit through the leg and ankle of these skinny angle maternity pants by Motherhood make them a favorite for work, brunch and more. Tall women, in particular, rave about the perfect fit.
ISLAND GETAWAYS: 7 Jamaica Couples Resorts That Are Perfect for Romance
Says a Motherhood.com verified buyer: "Very flattering and very comfortable. I'm 5'10" and the length is perfect. Will be buying another pair."
Foucome Women's Maternity Leggings
These over-the-belly maternity leggings from Foucome are active yoga workout pants that offer comfortable, full coverage for a variety of body types. The poly-spandex blend gives gentle support without constriction, and the built-in belly band can help with round ligament and back pain.
These maternity leggings come in regular and long sizes, and taller reviewers praise both the comfort and style. "I also have long legs and these actually reach my ankles and stay put which is hard to find in leggings for me," said one reviewer who purchased a long size.
Best Petite Maternity Pants
Indigo Blue Petite Secret Fit Belly Stretch Straight Leg Maternity Jeans
One of Motherhood's favorite petite maternity jeans, this petite-friendly pair by Indigo Blue has a classic straight leg that looks just as good loose as it does cuffed for a cropped, summertime look. You can pull the Secret Fit Belly panel up or fold it over, depending on what best suits your figure.
One Motherhood.com verified buyer called them her best maternity jeans. "I'm short (and) usually petite sizes run smaller, too, but not these pants," she says. "They were perfectly true to size and fit me wonderful (sic)."
SAIL AWAY: How to Plan and Book Your First Cruise Vacation
Signature by Levi Strauss & Co. Gold Label Women's Totally Shaping Pull-on Skinny Jeans
While not technically maternity jeans, these wildly popular pull-on skinny jeans are perfect for the petite pregnant woman, especially in the first and second trimester (and possibly into the third, too). They have a stretchy pull-on waistband and low tummy-slimming panel you can fold over to let the jeans ride low as your grow.
TOGETHER TIME: 10 Best Vacation Spots in North America for Couples This Year
One 4'11" Amazon user who says she can never find jeans that fit her is in love. "I have a two year old, an awesome mom pouch, and a healthy love of bread," she says, "These jeans make me look even better than I did before I grew another human being."
Maternity Crossover Panel Skinny Jeans—Isabel Maternity by Ingrid & Isabel
With a low back to keep you cool but a full supportive panel up front to reign in your growing belly, these dark wash petite skinny jeans, available at Target, can be dressed up or down.
One Target user called them the "perfect maternity jeans," adding, "They look just like the actual skinny jeans I wore pre-pregnancy. And aside from not being able to tuck shirts into a waistband, I don't feel like I'm missing anything."
ROMANTIC MEXICO: The 10 Best Mexico All-Inclusive Resorts for Couples
Best Plus Size Maternity Pants
Motherhood Plus Size Essential Stretch Secret Fit Belly Maternity Leggings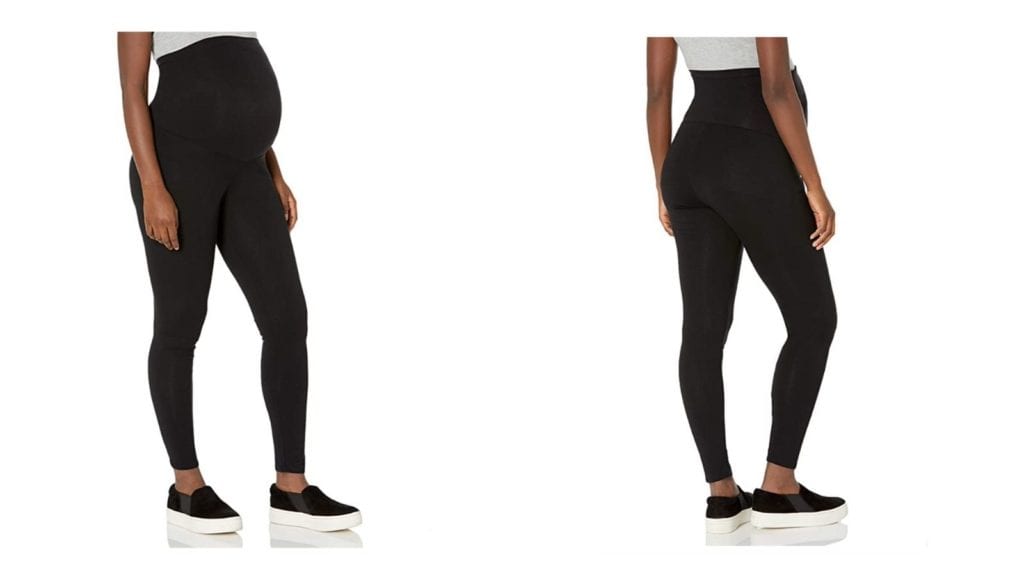 Soft and super comfy are among the accolades repeated over and over about these plus-size maternity leggings by Motherhood. Like many other expectant moms, one verified user on the site proclaimed that the leggings "don't bag or lose shape throughout the day," either.
Plus Size Indigo Blue Secret Fit Belly Skinny Leg Maternity Jegging
The look of skinny jeans with the comfort of leggings. What's not to love about these plus-size jeggings by Motherhood and Indigo Blue? According to a verified buyer on Motherhood.com, not much. "You'll never want to go back to regular jeans," she says, "These jeans are stretchy and very comfortable. Plus, they're pretty cute for maternity wear. Great price as well!" To which we say, "Sold!"
Best Cheap Maternity Pants
Ecavus Women's Maternity Palazzo Lounge Pants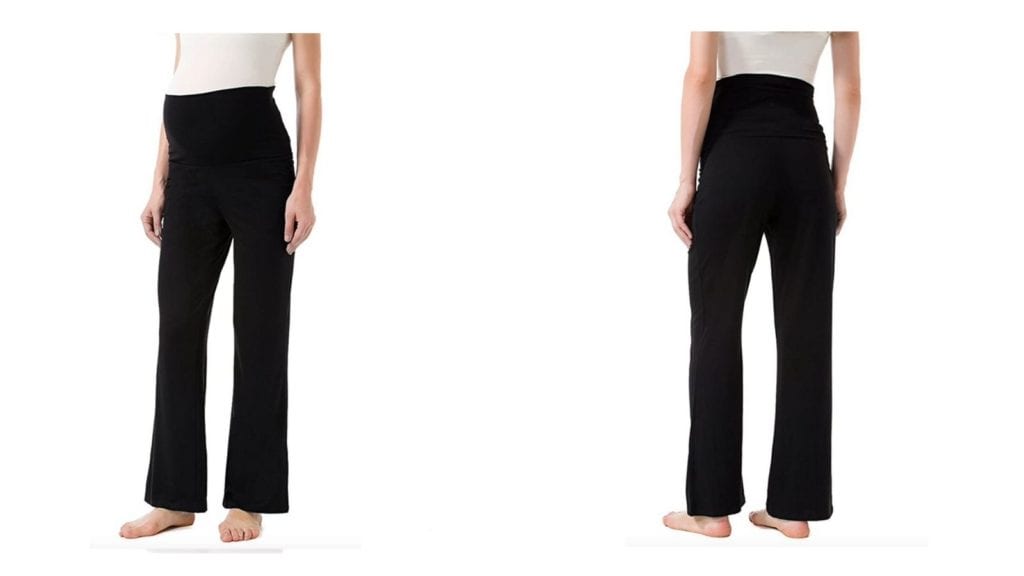 With a waistband that can be folded over or pulled up over your belly, these wide-leg classic palazzo pants come in a range of colors, patterns and lengths. They fit particularly well in the later stages of pregnancy, according to reviewers.
GIFT IDEAS: 11 Pregnancy Gifts That Expecting Moms Actually Want
An Amazon user was pleased with the quality-to-price payoff. "As cheap as the price was for these maternity pants compared to other retailers, I wasn't expecting much, but I was pleasantly surprised," she says. "I love them and they are so comfortable! I pretty much wear them every day, even to work at my office because you can dress them up or keep them casual."
JUST MY SIZE Women's Plus-Size Fleece Sweatpant
While not technically maternity pants, these plus-size sweatpants do the trick when you're expecting and want some extra room to breathe. They might be your most comfy pants yet, with a cord-free, ribbed waistband that makes them easy to pull on and off and a soft, fleecy inside. Do note that these pants don't have pockets at all.
NO PASSPORT NEEDED: The 15 Best All-Inclusive Resorts in the USA
"These pants are very comfortable and cozy," says a verified Amazon purchaser. "There was a bit of shrinkage when washed, but didn't affect the overall fit for me. I like the fact the lower leg is loose and the hem is stitched and not cuffed."
What are the best maternity pants?
Different brands fit pregnant women differently, so deciding on the best maternity pants is going to be a personal decision. The brands we've listed above—Motherhood Maternity, Ingrid & Isabel, Cherokee, Levi Strauss & Co., and others—receive high ratings from purchasers, and can steer you in the right direction.
The best maternity pants should be comfortable, flattering, and able to grow with your expanding body. Remember that it's not just your abdomen that gets larger during pregnancy; the hormone relaxin also loosens bands of connective tissue and causes the hips to widen to accommodate childbirth.
When should I start wearing maternity pants?
You can start wearing maternity pants as early in pregnancy as you like, but keep in mind that you may need to size up if you buy maternity clothing early. Some maternity pants have a special panel or enough give to stretch with an expanding belly, but others may have a more limited range.
In early pregnancy, even non-maternity leggings and soft pants can be loose and comfortable enough to accommodate the body's early changes. The goal is to be able to be comfortable in your clothing. Certain aspects of pregnancy can be uncomfortable and you don't need your clothes to contribute to the discomfort.
What kind of pants should I wear when pregnant?
Maternity pants and leggings utilize a number of different designs to create optimal stretch and comfort. Just as in non-pregnancy life, you may find certain styles more comfortable. Maternity pants, leggings, and jeans can have underbelly waistbands that sit comfortably under the growing belly. There are panels that create an area of stretch around the abdomen, and wide over-belly waistbands that are worn high and gently hug the baby bump.
BABIES AND TRAVEL: Guide to Travel for Breastfeeding Moms
There are also side panel pants, which offer stretch from the side while maintaining a normal look on the front and back of pants or jeans. Experiment a bit to see which type works best for you. And remember that you'll get extra wear out of them; post-pregnancy, maternity pants continue to be helpful as your body slowly returns to some version of its previous state.
Can you hurt your baby by wearing tight pants?
You will not hurt your baby wearing snug pants, but both pregnancy and tight pants (and especially the combination of tight pants and high heels) have been linked to a condition called Meralgia paresthetica that causes tingling, burning, or numbness in your thighs. If you are wearing tight pants during pregnancy and experience this discomfort, consult with your doctor and try shifting to softer, looser pants.
What kind of pants should I wear during pregnancy?
Gone are the days when maternity clothing looked like tents to hide a changing body. Modern maternity clothing comes in as many variations as non-maternity clothing, with the benefit of designs that accommodate the changes of pregnancy.
There are all sorts of pants that come in maternity sizes. You can find maternity jeans, maternity leggings, maternity jeggings, maternity casual pants, maternity work pants, and even specialized pants like maternity scrubs, maternity yoga pants, and maternity breeches.
More from FamilyVacationist: