Kids backpacks aren't just adult-sized packs sized for smaller people. They're an entire parallel universe of school-friendly features, sport-ready details, and kid-cool styles and prints. When it comes to backpacks sized for children, adaptability is key, durability is vital, and style is a welcome bonus. These kids backpacks deliver all three.
Best Kids Backpacks: Brands and Packs
Whether you're looking for new backpacks for returning to school, rejoining sports, or planning for summer camp, these kids backpacks from dependable brands have you covered. Bonus: Most of these backpack companies also make great gear for adults.
1. Topo Designs
Denver-based Topo Designs was started by two imaginative and outdoorsy friends who grew up in the Rocky Mountains. Some companies forget what it's like to be an outdoorsy and eco-responsible kid, but not Topo Designs; the company makes all sorts of uber-cool outdoor gear and clothing that never lose that playful spirit.
KIDS SNEAKERS: The Best Kids Sneakers for School, Travel, and Play
The Rover Pack Mini is the school backpack of Colorado kids, especially younger kids. Available in both canvas and water-resistant cloth, this pack is owned by all three generations in my family. There's a cinch-top closure, an exterior front pocket, top-flap pocket for quick access to smaller items, and an internal laptop sleeve. Expandable side pockets can easily hold a water bottle, snacks, or extra gear.
2. Osprey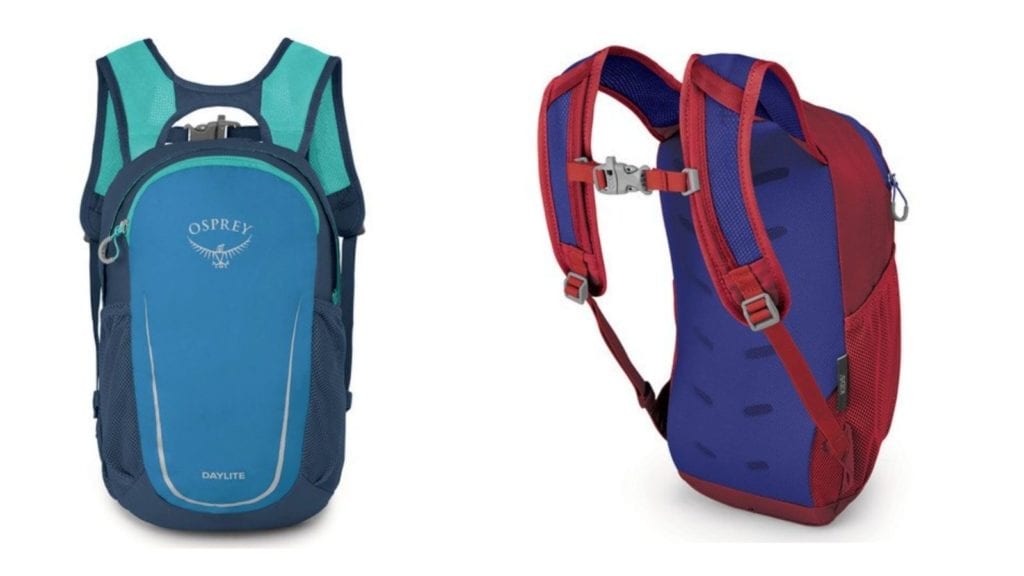 Osprey is a California-born, Colorado-based company making all-season, all-activity gear for babies, kids, and adults. Since the company's founding in 1974, every product design has passed through the hands of owner and founder Mike Pfotenhauer, who created his first backpack at age 16. (Maybe that's why he understands the younger generation so well.)
Osprey has more than a dozen children's backpacks, but the reasonably priced Daylite is among the most versatile for kids. Lightweight, durable, and comfortable, the Daylite is perfect for everything from a quick hike after school to heading out of town. This kids backpack comes in seven colors, is made of eco-conscious materials, has mesh exterior water bottle pockets, and can take a beating.
It's constructed from high-quality bluesign®-approved recycled fabrics, GRS-certified recycled polyester, and a PFC-free DWR coating. And good news for kids who sometimes want to take a break from hauling their own stuff: This pack can attach to a variety of other Osprey bags.
For kids who are too young to carry their own packs, Osprey also makes packs to carry kids.
3. Cotopaxi
Utah is home to South-America-inspired outdoor gear company Cotopaxi. Founded by Davis Smith, who grew up in Latin America, the company is named after Ecuador's Cotopaxi National Park. When you buy from Cotopaxi, you're also helping improve the human condition: Every purchase funds the fight against global poverty.
GO SOUTH: 10 Best Luggage Brands for All Types of Travelers
Cotopaxi's Del Dia collection is our backpack pick for tweens and older children with more gear. Each backpack features a one-of-a-kind color scheme since all bags are made from repurposed nylon. With its bright panels, the convertible Tasra Del Dia streamlines trips to school and jaunts farther afield with its spacious compartments and full-wrap, zippered opening.
The pack's external pockets keep your small items organized, while the padded laptop sleeve and internal, zippered sections ensure your electronic devices and extra clothing travel in protected comfort. Tuck-away backpack straps and multiple grab handles round out this daily hauler, adding a few more travel-friendly features for life on the move.
4. Black Crows
Black Crows brings French style to the kids and teen backpack scene. The first focus of the company—which was founded by pro freeskiers and is based in Chamonix, France—is making great skis. But it has also expanded into gear, including one heck of an awesome adventure-ready backpack. Black Crows has found a new fan base in American teens who love the style and functionality of this cool brand.
The Dorsa 20 is a compact backpack developed by the Black Crows team both for the ski slopes and journeys beyond the mountain. Highly ergonomic, neat, and tough, this advanced kids backpack is available in three colors. It comes with with two small twin exterior pockets and is a perfect balance of mountain functionality and urban chic. We love the khaki shade, best paired with cool patches from awesome journeys.
5. Fjallraven
Look around and you just might suspect that Fjallraven's Kanken Mini Classic Backpack has taken over America. From airports and schools to ski slopes and the beach, these wildly colorful backpacks have been on-trend for the past few years, and there's no end in sight.
STYLISH (AND FUNCTIONAL) SMARTWATCHES: 7 Best Smartwatches for Kids
As a company from a small town in Sweden—a place where mountains and forest meet the sea—Fjällräven is an outdoor clothing and equipment company that's committed to making nature more accessible. With its designs, it focuses on simplicity, practicality, and respect for the environment. Americans aren't the only youth crazy for this brand. It's a hot pick worldwide for families looking for cool kids backpacks with great pockets and durability.
Finding an Ideal Kids Backpack
There's no single perfect backpack, but great backpacks often have similar features. The best backpacks for kids have a roomy main compartment, at least one small pocket for smaller items, a water bottle pocket to reduce the chance of leaks, and come in a range of sizes to accommodate both kids in elementary and middle school.
And while choosing a new backpack for school each year is something kids often look forward to, investing a bit more in a backpack that can be used for two to three years opens you up to some great and slightly more expensive options.
Backpacks for School and Travel
New backpacks are a sign of good things to come. Backpack sets for the whole family can make it easy to keep track of your stuff on vacation, and packs in different colors and sizes can help keep everyone organized. And any daypack that's durable can easily transition from the school year (a time of toting everything from school supplies to a lunch box) to vacation.
For school backpacks, cool patterns and enough volume to carry all the gear them need tend to be big factors. The best backpacks for travel, meanwhile, offer well-padded straps so kids can carry their loads comfortably. A comfy pack also reduces the chance you'll find yourself carrying your kid's backpack for them while you're on vacation together.
Choose a backpack that can be washed mean and you'll be able to keep it looking new for longer. Being able to clean a backpack also helps it transition smoothly from school to travel (and back again).
And remember, no one ages out of backpacks: Backpacks for adults, especially those with small pocket detailing, can be a great alternative to diaper bags, not to mention backpacks are a great (and ergonomic) alternative to purses, messenger bags, totes, and briefcases.
More from FamilyVacationist:
This article on kids backpacks was originally published in March 2021. It has been updated to reflect the most current information.