Kids backpacks aren't just adult-sized packs sized for smaller people. They're an entire parallel universe of school-friendly features, sport-ready details, and kid-cool styles and prints. When it comes to backpacks sized for children, adaptability is key, durability is vital, and style is a welcome bonus. These kids backpacks deliver all three.
Best Kids Backpacks: Brands and Packs
Whether you're looking for new backpacks for family travel adventures, the school week, sports commitments, or summer camp, these kids backpacks from dependable brands have you covered. Bonus: Most of these backpack companies also make great gear for adults!
STURDY AND STYLISH: 11 Best Luggage Brands for All Types of Travelers
1. Topo Designs
Best overall backpack for kids
Denver-based Topo Designs was started by two imaginative and outdoorsy friends who grew up in the Rocky Mountains. Some companies forget what it's like to be an outdoorsy and eco-responsible kid, but not Topo Designs; the company makes all sorts of uber-cool outdoor gear and clothing that never lose that playful spirit.
WALK OR RUN: 10 Best Kids Sneakers for School, Travel, and Play
The Rover Pack Mini is the school backpack of Colorado kids, especially younger kids. Available in both canvas and water-resistant cloth, this pack is owned by all three generations in my family. There's a cinch-top closure, an exterior front pocket, top-flap pocket for quick access to smaller items, and an internal laptop sleeve. Expandable side pockets can easily hold a water bottle, snacks, or extra gear.
Where to Buy: Topo Designs, Amazon, Zappos  
2. Osprey
Best versatile backpacks for kids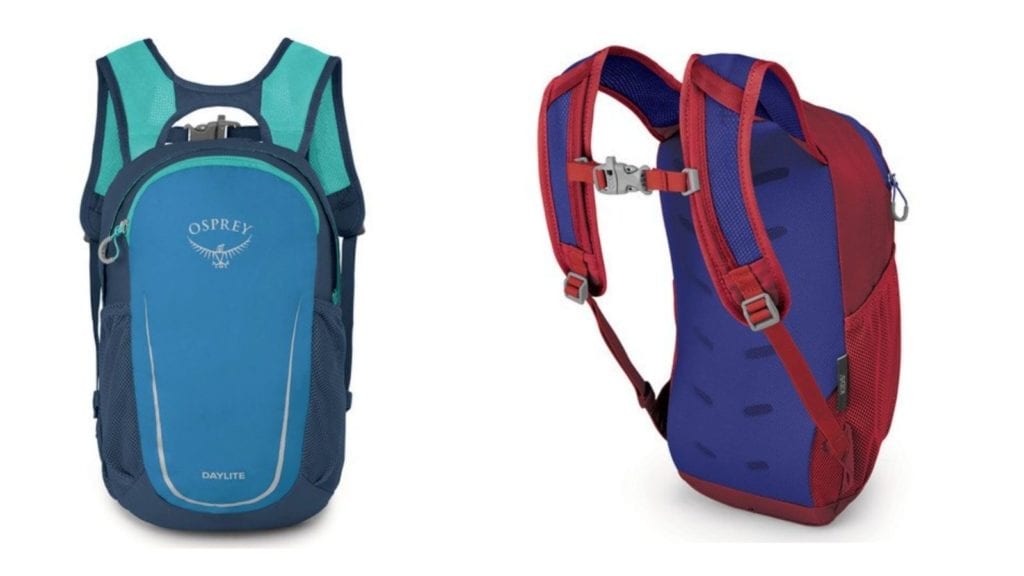 Osprey is a California-born, Colorado-based company making all-season, all-activity gear for babies, kids, and adults. Since the company's founding in 1974, every product design has passed through the hands of owner and founder Mike Pfotenhauer, who created his first backpack at age 16. (Maybe that's why he understands the younger generation so well.)
TRAVEL MADE EASY: 11 Kids Luggage Brands That Make Travel Easier 
Osprey has almost a dozen children's backpacks, but the reasonably priced Daylite is among the most versatile for kids. Lightweight, durable, and comfortable, the Daylite is perfect for everything from a quick hike after school to heading out of town. This kids backpack comes in multiple colors, is made of eco-conscious materials, has mesh exterior water bottle pockets, and can take a beating. 
It's constructed from high-quality recycled fabrics, GRS-certified recycled polyester, and a PFC-free DWR coating. And good news for kids who sometimes want to take a break from hauling their own stuff: This pack can attach to a variety of other Osprey bags. For kids who are too young to carry their own packs, Osprey also makes packs to carry kids.
Where to Buy: Osprey, Amazon, Dick's Sporting Goods 
3. Cotopaxi
Best kids backpacks for staying organized
Utah is home to South America-inspired outdoor gear company Cotopaxi. Founded by Davis Smith, who grew up in Latin America, the company is named after Ecuador's Cotopaxi National Park. When you buy from Cotopaxi, you're also helping improve the human condition: Every purchase funds the fight against global poverty.  
WHAT TO WEAR: 10 Most Comfortable Travel Clothes Brands for the Whole Family 
Cotopaxi's Del Dia collection is our backpack pick for tweens and older children with more gear. Each backpack features a one-of-a-kind color scheme since all bags are made from repurposed nylon. With its bright panels, the convertible Tasra Del Dia streamlines trips to school and jaunts farther afield with its spacious compartments and full-wrap, zippered opening. 
The pack's external pockets keep your small items organized, while the padded laptop sleeve and internal, zippered sections ensure your electronic devices and extra clothing travel in protected comfort. Tuck-away backpack straps and multiple grab handles round out this daily hauler, adding a few more travel-friendly features for life on the move.
Where to Buy: Cotopaxi, Amazon, Zappos  
4. Fjällräven
Best trendy backpacks for kids
Look around and you just might suspect that Fjällräven's Kanken Mini Classic Backpack has taken over America. From airports and schools to ski slopes and the beach, these wildly colorful backpacks have been on-trend for the past few years, and there's no end in sight. 
TRAVEL TECH: 10 Kid-Friendly Smartwatches with GPS, Text, or Voice Call Technology 
As a company from a small town in Sweden—a place where mountains and forest meet the sea—Fjällräven is an outdoor clothing and equipment company that's committed to making nature more accessible. With its designs, it focuses on simplicity, practicality, and respect for the environment. Americans aren't the only youth crazy for this brand. It's a hot pick worldwide for families looking for cool kids backpacks with great pockets and durability. 
Where to Buy: Fjällräven, Amazon
5. L.L.Bean
Best durable backpacks for kids
Maine-based L.L.Bean shows up on a lot of "best kids backpacks" lists for a reason. The company's backpacks can take a beating whether they're being shoved in a locker, pushed under an airplane seat, or tossed by the side of the gym or soccer pitch.
ROAD TRIP READS: 33 Books Like Harry Potter to Binge on Your Next Vacation 
The company calls its Deluxe Book Pack 32L "the practically indestructible pack" thanks to its machine-washable, weather-proof nylon fabric and extra-strong stitching. A padded back panel, ergonomic straps, and a waist belt make it comfortable to wear no matter where you are, and a separate laptop pocket and two water bottle pockets help keep things organized. There's also a smaller version for younger kids, hiking-style packs, and a slew of other options available in everything from basic solid colors to bright and colorful prints.
Where to Buy: L.L.Bean
6. JanSport
Best easy-to-find backpacks for kids
JanSport is a go-to name for backpacks and you can find the brand's bags at most big-box retailers as well as online. The company offers a range of styles in a wide variety of materials, colors, and prints, and its durable bags feature lots of pockets and zippered compartments for holding everything kids need in the classroom or on vacation. 
MAGICAL BAGS: The Best Disney Luggage for Kids and Adults
Best-sellers include the Right Pack, with a padded laptop sleeve and side water bottle pocket, and the Main Campus backpack, with lots of organizational features ideal for helping older kids corral computers, electronics, books, and other gear. The rolling Driver 8 Backpack features skate wheels that make transporting the bag through the airport or school hallway a breeze. The backpacks are made to last, and JanSport even backs that up with a limited lifetime warranty.
Where to Buy: JanSport, Target, Walmart, Amazon   
7. The North Face
Best kids backpacks for outdoor adventure
Yes, you can use a kids backpack from The North Face for a normal school day or an overnight at the grandparents' house. But these rugged and dependable backpacks are also ideal for exploring national parks and hiking adventures close to home and farther afield. The company's kid-sized bags feature adjustable, padded shoulder straps and plenty of pockets for all their necessary supplies and are made to fit their smaller-sized bodies.
BEACH TRIPS: 25 Beach Essentials You Need for Every Sun-Soaked Vacation
The popular Youth Mini Recon Backpack features two water bottle pockets and an internal name tag in case your kiddo's the forgetful type. The Youth Court Jester Backpack is a smaller version of the company's popular Jester bag, complete with front bungee straps for jackets and other bulky items. And the Youth Mini Explorer Backpack is a good starter pack for little ones' first big adventures.
Where to Buy: The North Face, REI, Amazon  
8. Herschel Supply Company
Best kids backpacks with classic style
Kids backpacks from Herschel Supply Company provide plenty of functionality to go along with their streamlined good looks. Made with 100 percent recycled EcoSystem fabrics and available in seven colors, the Herschel Classic Backpack includes a floating laptop sleeve and adjustable padded shoulder straps. For toting more gear, the larger Retreat Backpack has a bigger, fleece-lined laptop sleeve, dual water bottle pockets, and back entry zipper and is offered in a whopping 20 color options.
VACATION READY: 10 Best Snorkel Sets and Snorkeling Gear for Kids 
The always-in-style Herschel Heritage Backpack also comes in smaller sizes for little kids and elementary and middle schoolers, so the whole family can coordinate if desired. The Canadian brand takes sustainability seriously and makes continued efforts to reduce its environmental impact, and it also stands behind its products with a limited lifetime warranty.
Where to Buy: Herschel Supply Company
9. Pottery Barn Kids / Pottery Barn Teen
Best kids backpacks for true personalization
The backpack options feel almost endless at Pottery Barn Kids and Pottery Barn Teen. For kids, size options range from mini to extra-large; there are also rolling backpacks and adaptive backpacks for wheelchair users. The bags are available in prints and designs sure to appeal to almost any kid, including unicorns, dinosaurs, hearts, and a range of popular Disney and Marvel characters. The durable backpacks feature lots of pockets and adjustable, contoured, padded straps and can be monogrammed in a variety of fonts and colors.
ON THE GO: 10 Wildly Adaptable Crossbody Bags That Are Perfect for Travel 
Teens have similar choices, with standard backpacks available in three sizes as well as rolling and sports backpack options. Those with a more classic style can go for subtle solid colors and stripes, while teens who like to be noticed might opt for a bright tie-dye or space-inspired design. Laptop, cell phone, and water bottle pockets help keep everything organized, and monogramming options up the personalization factor.
Where to Buy: Pottery Barn Kids and Pottery Barn Teen 
10. State
Best kids backpacks that give back
State Bags makes products for the whole family that support American kids and families in need through every purchase made. The company does that in ways that meet the needs of the moment, whether that means backpack donations or providing funds for community projects. 
TRAVEL FASHION: 10 Best Travel Leggings with Pockets, According to Reviewers
The company's kids backpacks not only do good, but they also look good, featuring all kinds of cool designs and prints kids of all ages will love. The popular Kane Kids Travel backpack comes in several sizes and 20 color options, some of which have coordinating luggage. The backpack is made with recycled materials and has multiple pockets for storing kids' necessities. But that's just one option, and you can filter the choices by price, color, material, and features to find the perfect backpack for your kiddo.
Where to Buy: State Bags, Amazon 
Finding an Ideal Kids Backpack
There's no single perfect backpack, but great backpacks often have similar features. The best backpacks for kids have a roomy main compartment, at least one small pocket for smaller items, and a water bottle pocket to reduce the chance of leaks and come in a range of sizes to accommodate both kids in elementary and middle school. 
And while choosing a new backpack for school each year is something kids often look forward to, investing a bit more in a backpack that can be used for two to three years opens you up to some great and slightly more expensive options.
Backpacks for School and Travel
New backpacks are a sign of good things to come. Backpack sets for the whole family can make it easy to keep track of your stuff on vacation, and packs in different colors and sizes can help keep everyone organized. And any daypack that's durable can easily transition from the school year (a time of toting everything from school supplies to a lunch box) to vacation.
For school backpacks, cool patterns and enough volume to carry all the gear they need tend to be big factors. The best backpacks for travel, meanwhile, offer well-padded straps so kids can carry their loads comfortably. A comfy pack also reduces the chance you'll find yourself carrying your kid's backpack for them while you're on vacation together. 
Choose a backpack that can be washed, and you'll be able to keep it looking new for longer. Being able to clean a backpack also helps it transition smoothly from school to travel (and back again). And remember, no one ages out of backpacks: Backpacks for adults, especially those with small pocket detailing, can be a great alternative to diaper bags, not to mention backpacks are a great (and ergonomic) alternative to purses, messenger bags, totes, and briefcases.
Beth Luberecki also contributed to this story.
More from FamilyVacationist: