Bento boxes bring a bit of magic to lunch. Their internal structure keeps foods safe and fresh, they save you a whole cupboard full of additional baggies and containers for packing items, and they have handy features like built-in utensils and thermal protection. They also bring a little joy to the midday meal: with their festive shapes and colors, opening a bento box can feel a little like opening a gift, especially if there's something delicious inside. They encourage both kids and adults to break out of the sandwich-and-apple routine, and are perfect for healthier options like fruit and veg.
There's no one right fit when it comes to bento boxes. Younger kids will appreciate smaller bento boxes with easy-to-open latches, while older kids likely need a bigger box to keep up with their growing appetite. Adults should look for a bento box that works with their particular lunch style, be it leftovers, salads, or sandwiches. Here are seven standout bento boxes.
Best for School Lunch: OmieBox Bento Box for Kids
The genius of the OmieBox Bento Box for kids is that it has a removable Thermos, which ups the flexibility factor considerably. Soup? Yes. Yogurt? Of course? Smoothies? You bet. Remove the Thermos and you've got enough room to pack a hearty sandwich. Other winning features include a section with an adjustable divider, so you can pack more variety into every lunch, and nice deep compartments that hold enough food for hungry kids.
And all the latches and handles are kid-friendly, so even young kids won't have to depend on adults to open and close their lunch for them. In addition to the standard box, which comes in a variety of colors including green, purple, pink, and yellow, there's an OmieBox Bento Box for Kids that comes with a reusable fork and spoon that come in their own carrying case that attaches to the box.
Best Entry Level Bento Box: Bentgo Classic
With over 18,000 Amazon reviews and an average rating of 4.5/5, the Bentgo Classic has a strong fan base. It's not a fancy bento box, but it does have two separate compartments (use both or opt for one) plus built-in utensils and a nylon sealing strap to keep lids on tight and the two containers together. With an affordable price tag and eight colors to choose from, this is a good entry-level bento box for school, work, and travel.
Best Leakproof Bento Box: Kinsho Bento Lunch Box
Most bento boxes make an effort to be leak-proof, but the Kinsho Bento Lunch Box goes all in on leak prevention. To be leakproof, though, requires a bit of extra effort: the tight seal requires the top and bottom be aligned to fit tightly together, which isn't a big deal for older kids and adults, but may be too challenging for little kids to do without assistance. The BPA-free bento box has a transparent lid so you can see what you're getting, and it comes in a range of colors. Some purchase options include a second "mini" bento box and others have custom-fit utensils.
Best for Little Kids: Bentgo Kids Brights
Fun colors, kid-friendly latches, and a leak-proof design make Bentgo Kids Brights a winner for the three to seven set. Compartments are sized for smaller appetites, and are ideal for kids who like to graze on a little of this and a little of that. However, if you happen to have (or be) a big eater, you may find the capacity limited. Three fun color combos (pink and purple, yellow and blue, and orange and teal) keep lunch fun, and the fact that the trays are dishwasher safe makes clean-up a breeze.
Best Insulated Option: Insulated Lunch Bag and Bento Box
The Cute Lunch Box is more than cute, it's also adaptable, has good capacity, and is insulated to keep your hots hot and your colds cold. This circular bento box has compartments that screw together. Stack all three tiers or opt for just two or one, depending on what you're bringing. The top doubles as a bowl and a small compartment holds fruit, plus there's room for a soup compartment and two larger compartments below that. Containers are plastic outside and stainless steel inside, and it comes with an insulated carrier with a strap for easy transport.
Best Plastic-Free: GreenLunch Bento 3-in-1 Stainless Steel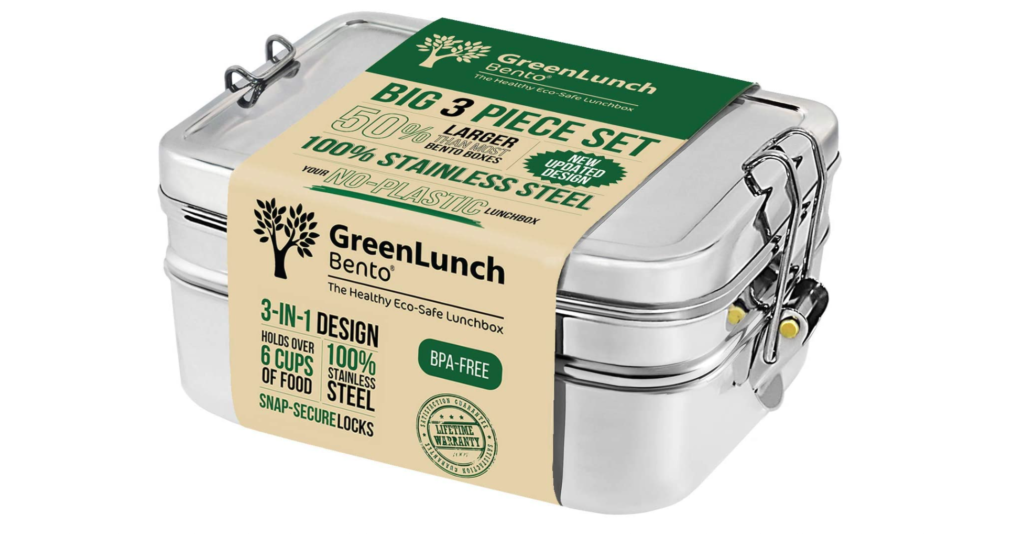 Reducing your plastic use, one decision at a time? The 3-in-1 Stainless Steel Bento Box from GreenLunch Bento offers a durable and roomy bento box with three large compartments plus a removable snack pod. Ideal for lunches that aren't likely to leak (think sandwiches and grapes rather than a dressed salad or cut-up watermelon) Strong metal snap locks keep everything in place, but may require a bit too much muscle for young kids to open without help. Note that a previous version of this bento box had problems with cracking corners, but the company has redesigned it to fix the flaw.
Best for Salad: Bentgo Glass
One large glass compartment topped with a plastic insert that holds toppings offers a winning design for anyone who regularly brings a salad to work. The Bentogo Glass bento-style lunch carrier even comes with a sealing dressing container and a built-in fork. Everything is designed to be leak-proof for easy transport, and it's large enough to hold a meal's worth of salad. Reviewers praise it for both work and picnics, and appreciate the all-in-one nature of this bento box.
More from FamilyVacationist: